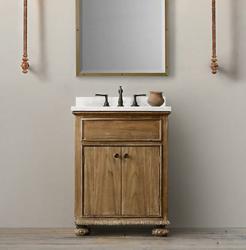 There's something about the sight of aged, graying wood that speaks of hominess on a fundamental, almost subconscious level. Most cottage-style homes in this country are older ones, and weathered wood speaks to a kindred sense of elegant decay.
(PRWEB) October 19, 2012
HomeThangs.com – the Home Improvement Super Store has made their goal to deliver the right product to the consumer, with that in mind, shopping and home design tips, as well as special product selections are being introduced.
There are many ways to add rustic, cottage-style charm to a bathroom, but there's none better than using natural, weathered wood. There's something about the sight of aged, graying wood that speaks of hominess on a fundamental, almost subconscious level. Most cottage-style homes in this country are older ones, and weathered wood speaks to a kindred sense of elegant decay. It's a feeling that's pretty deeply ingrained.
HomeThangs.com introduced a selection of weathered wood bathroom vanities along with a guide to building a relaxed, slightly aged, vintage cottage style bathroom.
1. By itself, wood is a powerful design material. Most bathroom vanities are made of wood in some form or another, but solid wood vanities are relatively rare. The vast majority of wood bathroom vanities are made with whatever's available. That means that while they might have the structural integrity, strength, and durability of wood, they don't really do much to showcase the material. More still are made of MDF or plywood, both of which have their place, of course, but neither can be made to look like the real deal. If looking for a truly rustic vanity, something like the French Empire Vanity from Restoration Hardware – one that's made of real wood that's selected and finished to highlight the wood grain would be a good choice.
2. For one of the best weathered wood bathroom vanities, manufacturers like Herbeau that uses high quality woods is something to look for. A good rule of thumb is, if they don't specifically list what kind of wood they're using, it's probably a mixture of what's available, and probably not ideal. Herbeau's Celine Vanity is made from solid ash constructed to emphasize the natural wood grain for maximum homey effect. And because the wood is simply treated (or even left unfinished) the already slightly rustic appearance will age naturally with a home over time – feat most modern vanities wouldn't be able to pull off.
3. Another good idea is to look for weathered wood bathroom vanities that are made out of reclaimed wood. This is like the rustic, cottage equivalent of high quality exotic wood veneers, only the value comes from natural weathering and variation (like knots, cracks, and striations that are otherwise considered undesirable). That means looking for vanities made either of wood that would have been discarded for defects, or wood that's actually been reclaimed from other construction. Nuevo specializes in building furniture from the latter, but the result of either is stunning, as one can see in Restoration Hardware's Logan Vanity, which is made of reclaimed white oak. Weathered wood bathroom vanities come standard with unique natural variations and patterns that are purposefully removed from mass-produced vanities.
4. If opting for traditional materials and methodology puts weathered wood bathroom vanities out of the reach, it is not necessarily have to be the most authentic materials to get the look. A good example is a rustic-looking Casual Elements vanity from Sagehill. It's a huge step down on the price scale without sacrificing what makes weathered wood bathroom vanities so beautiful. But instead of being made from choice hardwoods throughout, it's made with a solid oak construction covered in fine oak veneers, so one can get the finest wood grain patterning – and a slightly aged, weathered look – at a much lower cost.
5. Weathered finishes are important, too, especially for those who aren't inclined to let the vanities continue to mature on their own. Even a subtly distressed finish on a light wood vanity like the Regency Place by Sagehill can give it a soft, inviting appearance that makes it perfect for a cottage style bathroom. This can also be a good choice for a bathroom that sees a lot of hard use – such as a child's bathroom – as the finish is more likely to stay in good condition. As with fine furniture, the highest quality wood is best reserved for use with a more careful touch.
6. Hand painted designs are another way to enhance the worn appearance of weathered wood bathroom vanities. The Larchmont Vanity from Cole+Co is a brilliant example, with slightly faded floral hand painted detailing that melds beautifully with the rustic antique finish. This vanity relies more heavily on high quality finish work than the natural weathered appearance of wood, but the effect is similar, with subtle cracks and worn spots designed to make it look like it's stood in place for a hundred years
HomeThangs.com is not only a home improvement superstore, it also provides expert design tips and a comprehensive shopping guide, taking the ideas from professional interior designers, and offering tips to the consumers on how to pick the products to best suit their needs.