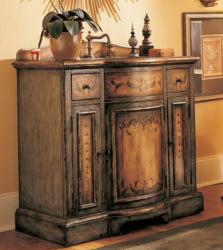 Bathroom vanities with weathered finishes can bring a lot of style and charm to any bathroom space.
(PRWEB) September 23, 2012
HomeThangs.com – the Home Improvement Super Store has made their goal to deliver the right product to the consumer, with that in mind, shopping and home design tips, as well as special product selections are being introduced.
With a wide variety of bathroom vanities available, it might be overwhelming for the consumers to find the right one. With that in mind, HomeThangs.com introduced a selection of weathered bathroom vanities as well as a tip sheet to help its customers find the vanity that would add personality to the bathroom.
1. Weathered finishes are most common on antique bathroom vanities, like the Heirloom Vanity from Cole+Co, for example, for the simple reason that an aged finish adds the appearance of age and authenticity to bathroom vanities done in a period style. Not only does such vanity look more "real," but it also has more character. Though the aging is done by hand, the little dents, dings, and rubs give it its own personal story, and a greater depth of visual interest than bathroom vanities with a shiny new coat of paint. Plus, the worn-through edges of this vanity and it's slightly beaten up look make it a much more casual kind of antique – an antique in the sense of being old and loved rather than in the sense of opulence and luxury, which is much better for an unpretentious period inspired bathroom or even a country or cottage style.
2. The exact look of the vanity depends a lot on just how weathered the finish is. The Kelley Sink Chest by Cole and Co, for example - the trellis-style doors are accented with antique mirrors, and the once-white finish is worn down all over. It has a weathered, layered look, this is the kind of finish that takes years to develop naturally, and a skilled professional hand to pull off otherwise. Such vanity is a perfect fit for a reclaimed loft space – a perfect pair for old brick, old wood, and a sense of revitalized history.
3. Many weathered finishes are much more subtle, though, and more palatable to an average bathroom. The Guild Hall Vanity from Kaco, for example, is only very lightly distressed, with the black Sherwin William's finish stretched a little thin on the door panels and drawer fronts to show some of the wood grain underneath. But even this, compared to a solid semi-gloss black, adds the personality of years of use, adding a subtle depth of detail and a casual, cozy quality that's perfect for a relaxed, country style bathroom. While a solid black finish can be very formal or even a little too modern, even a slightly weathered black finish looks a lot homier.
4. The Adams Sink Chest by Cole and Co is another good example – hand painted black, with a little rub-through around the edges to show off the natural wood beneath. As with antique bathroom vanities, this adds age because, quite simply, that's the way paint wears down over time – any prominent edges, stand-out curves, or any frequently used moving parts start to go the way of the dodo. Because letting the wood peek through breaks the solid, imposing face of all that black, softening it. Solid black anything is always a bold choice, and in a bathroom one of the best ways to pull it off (outside of a very modern decor) is to mellow it out with a little wear and tear. Instead of black, it looks more like something that's been through it's paces – maybe aged, painted over to reclaim it, and then aged again, which is a lot of personality for a bathroom vanity to have right out of the box.
5. The Romantique Vanity by Cole and Co actually takes that last idea – about painted, reclaimed bathroom vanities – a step further going beyond an antique weathered finish and into a totally new and fresh look. Designed like a perfect antique Bombe chest in Louis XV style, this vanity pays homage to its French origin in long hand all over the main faces. The effeminate white finish is chipped here and there for authenticity, but it's the scrawled French words and phrases that breathe new life into this piece, turning it from old French into the perfect Parisian Chic.
6. Sometimes bathroom vanities with weathered finishes are beautiful in their own right and for their own sake. The Davis Vanity by Cole & Co is the perfect yard-sale, thrift-shop, flea market find one could only ever hope to get the hands on in the wild. Made with deliciously weather-worn cherry veneers, this vanity is actually designed to look like a layer of paint has been scraped off it, adding yet another layer of age (not to mention the picture perfect crackles of paint around the edges). As if that weren't enough personality on its own, the dresser-style drawers are even lined with turquoise wallpaper.
HomeThangs.com is not only a home improvement superstore, it also provides expert design tips and a comprehensive shopping guide, taking the ideas from professional interior designers, and offering tips to the consumers on how to pick the products to best suit their needs.