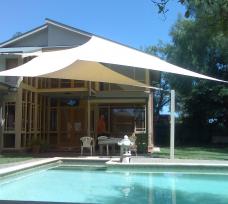 This is a once in a lifetime opportunity to buy the highest quality pre-made shade sails at below cost price!
Adelaide, South Australia (PRWEB) December 17, 2012
As the country begins to recover from difficult economic times and a housing slump seen worldwide, Weathersafe announces a Shade Sail Clearance Sale sure to help home buyers improve their homes before selling. As Tim Seymour-Smith of Weathersafe says, "Homeowners are now ready to sell and with sales on the products they need to help make that happen, it's a win-win situation for everyone. Australia is known for its hot weather and putting shades over the back patios will help a home sell faster."
Since the housing bust of 2008-09, homes have been sitting in many cities, unable to sell. According to Seymour-Smith, the sale of home accessories dropped dramatically during the years since. But, as the economy has improved, he explains, sales on home improvement supplies have picked up too. This sale is to help homeowners get a start on their re-modeling and improve the look of their homes before selling.
Says Seymour-Smith,"You know when you have an outdoor area that cannot be used at certain times of year? When it's either too hot during summer, or too cold and windy during the cooler months, such that the area can only be appreciated on those very rare, occasional perfect days?
Well what we do is have one of our experienced design staff have a good look at the problem area with you, and design and construct innovative and contemporary outdoor structures that make the area more functional for more times of the year, and that add massive value to your home, school, workplace, or wherever the area may be. Weathersafe Shades are clearing stocks of our premium pre-made shade sails during November, 2012. This is a once in a lifetime opportunity to buy the highest quality pre-made shade sails Adelaide at below cost prices. We also have a huge range of stainless steel shade sail fixings and accessories, all reduced to clear."
Providing shade, via sails, is more than just cosmetic improvement to homes. It also improves your energy bills during the hot months. By installing them now, says Seymour-Smith, you are able to take advantage of the savings on your electric bill and prepare your house for re-sale. Smith explains, "While it would be nice to assume your house would sell as-is, it's just not reasonable. House shoppers want things done for them already. That's what really sells people on a home. They want to walk into it and have it ready for them, right then."
The sale is only available to customers in Adelaide, but customers should know that shade sails Perth are also on-going, of varying degrees.
About Weathersafe:
Begun in the mid 1950s, the company is now run by Tim Seymour-Smith, primarily designing and constructing shade sail structures, awnings, umbrellas,†and associated shade structures into markets all over the world.