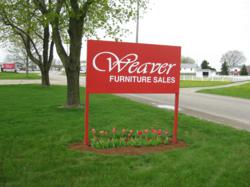 We all love to work in the garden and we thought what a great way to treat the visitors to our furniture store with the natural beauty of a quilt garden.
Shipshewana, IN (PRWEB) June 21, 2011
Since late last summer the folks at Weaver Furniture Sales have been meticulously planning for the birth of a new quilt garden located in their front yard. The quilt garden, called the Amish Shadow, was completed in late May and is part of the Amish Country Quilt Gardens Tour Along the Heritage Trail sponsored by the Elkhart County Convention and Visitors Bureau. Carolyn Miller, an avid quilter of thirty plus years saw the Amish Shadow design at a quilt show and thought it was a perfect fit for the Weaver Furniture Sales quilt garden. Her love and experience in gardening made Miller an easy choice to be the lead gardener on the inaugural quilt garden at Weaver Furniture Sales.
"We all love to work in the garden and we thought what a great way to treat the visitors to our furniture store with the natural beauty of a quilt garden," says Ida Weaver, owner.
Visitors to the quilt garden will have a platform from which to view and capture the beauty of the Amish Shadow design created in part with Citrus Wave Petunias, Royal Velvet Petunias and Janie Yellow Marigolds. The garden is maintained by Miller, her husband Christy, Ida Weaver (owner of Weaver Furniture Sales) and Ruth Miller.
From May 30th through October 1st, visitors are encouraged to stop by Weaver Furniture Sales and view the Amish Shadow quilt garden located on the South side of Shipshewana in the heart of Amish Country. This area in Northern Indiana is known for the large Amish population, quality handcrafted Amish Furniture, many gift shops and a large out-door flea market. The quilt garden is one of several along the Heritage Trail in Northern Indiana Amish Country and is available for viewing during daylight hours seven-days-a-week.
Visitors are encouraged to stop by Weaver's and see the new Amish Shadow Quilt Garden. Weaver Furniture Sales has made available for purchase a limited number of Amish-quilted Shadow Quilt wall hangings. In addition, visitors can purchase a raffle ticket for a chance to win a queen-size Amish Shadow Quilt in the fall of 2011. Proceeds from the raffle benefit the LaGrange County Food & Clothes Basket.
While visiting the quilt garden LeRoy and Ida welcome you to their large showroom filled with hand-crafted Amish furniture. Check the website at http://www.weaverfurnituresales.com for complete directions and store hours and additional history about this Shipshewana furniture store.
About Weaver Furniture Sales:
Weaver Furniture Sales was established in 1989 in Shipshewana, Indiana, and is an Amish, family-owned furniture business that offers a full line of solid wood, Amish Furniture at affordable prices. As part of their client services, Weaver Furniture Sales provides furniture design consultation services, custom furniture options, furniture quotes, layaway options and various delivery alternatives for residences in the United States from their quiet country showroom in Shipshewana, Indiana.
LeRoy and Ida Weaver have owned and operated Weaver Furniture Sales for over twenty-one years, beginning with a 1,500 square foot showroom and expanding to over 15,000 square feet today. Previously, they owned and managed LeWana Dairy Farm where they milked cows and raised corn and hay.
###