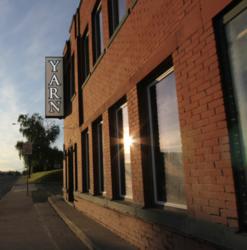 Paradise Fibers is adapting to the upcoming national destination based internet sales tax by recently moving to a new expansive showroom promoting knitting yarn and spinning wheels to local customers.
Spokane, WA (PRWEB) June 14, 2013
According to Forbes and Bloomberg, Walmart and Amazon are fighting hard to pass a bill that will increase tax burdens on small to medium sized online retailers. This bill will help to effectively weed out smaller online competitors. This new bill will require online retailers in the United States to report sales tax based on shipping destination. The bill is intended to level the playing field for local brick and mortar retailers and put heavy burdens on all online retailers. Smaller retailers will be hit hardest because they lack the infrastructure necessary to collect and report tax to 44 states. This gives a clear advantage to retail giants like Amazon and Walmart who have the infrastructure to report this type of tax easily. (*See links below for references and attribution)
Paradise Fibers & Yarn has been planning ahead with a fresh take on retail allowing local customers to shop in their online warehouse to bolster local sales. Paradise recently moved to a new expansive showroom where customers shop for knitting yarn and spinning wheels but also doubles as a shipping warehouse. The shop's design is optimized to adapt to whichever part of the business is busiest, online or local, and gives their customers the best of both worlds. On a daily basis Paradise Fibers employees may shift from shipping to helping local customers, answering phones or merchandising. Paradise has created an exciting work environment including a stocked gourmet kitchen making Paradise a magnet for the high quality people and employee retention necessary for this type of operation. It is often called one of the wildest yarn shops in the nation and has quickly become a tourist destination.
Paradise has diversified their shop, adding local sales to their strong online presence which has allowed the budget for the extra staff necessary to manage the extensive sales tax reporting when this new tax bill passes. When it finally does go into effect many consumers will turn to local retailers and Paradise Fibers is ready for the extra local business.
Paradise Fibers has been in business since 1997 selling yarn ,spinning wheels and weaving supplies. The company is family owned and operated and consists of a variety of Romine family members young and old with a sprinkle of dedicated fiber junkies and stunt men.
Contact:
Travis Romine
info(at)paradisefibers(dot)com
http://www.paradisefibers.com
Sources:
The Real Reason Amazon Flip-Flopped on Internet Sales Taxes - Forbes Magazine/Jessica Melugin - June 3rd 2013
Bloomberg News: Senate Passes Wal-Mart Backed Bill for Taxes on Web Sales By Richard Rubin - May 7, 2013 9:58 AM PT