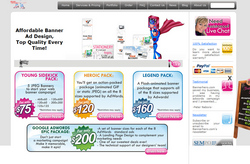 New York, NY (Vocus) February 27, 2010
bannerhero.com, web design experts, released four commercial packages that include three web banner design solutions plus an AdWords-targeted package that includes landing page design services.
These packages contain various solutions for those companies that are just starting or for those traditional businesses that still lack a proper internet marketing option. Affordable prices and timely deliveries serve as a quality guarantee.
These packages: (Young Sidekick, Heroic, Legend and Epic) were created to offer a modular solution for those companies that needed affordable online advertisement solutions.
The first three offer different ranges and graphic proposals to start a web banner marketing campaign, while the Epic package is an integral AdWords solution, designed to control costs and increase the PPC (Pay per Click) rates.
Every banner and landing page is custom-designed by a team of expert graphic/digital designers that understand how and where to promote all sorts of products and services.
For more information about bannerhero.com's products, services and offers, please visit http://www.bannerhero.com.
###