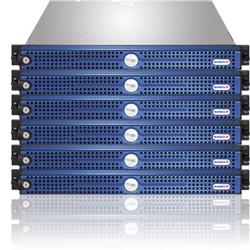 100 seats can fit online meeting usage of about 2 000 users
Montpellier, France (PRWEB) October 15, 2008
Tixeo launches its new offer WorkSpace3D Enterprise Edition Appliance, solution for video and web conferencing to be installed on companies' network. This solution gives full control to companies willing to manage their infrastructure, respect network policies and keep autonomy regarding hosted service providers.WorkSpace3D Enterprise Edition Appliance is the richest video conferencing and collaboration solution provided by Tixeo. Sharing applications during a voice and video communication (over IP) with dozens of other participants, exchanging documents in real-time inside a 3D virtual meeting room, all of this is now made possible with WorkSpace3D EE Appliance.
Hardware or virtual appliance for video and web conferencing
Tixeo's appliances are designed for a fast and efficient setup of companies' web conferencing services. Two appliances offers are available:
The first one, a hardware appliance that you just have to plug to start meeting, is designed to be upgradable. This appliance is sized to host up to 100 people distributed in different meetings at the same time. Tixeo indicates that "100 seats can fit online meeting usage of about 2 000 users". For any wider deployment, these appliances are clusterisable and distributable, allowing to increase with no limit the amount of meetings.
The second offer is for all companies having opted, or forecasting to opt for server virtualization.
Tixeo proposes its video and web conferencing appliances as ready-to-use virtual machines, which are available for VMware and Xen.
About Tixeo
Tixeo is a video and web conferencing solution editor since 2003.
The solution WorkSpace3D, soon available in its version 2.7, allows communicating with up to 30
people at the same time with voice and video over Internet. This solution embeds rich collaboration
capabilities like application sharing, document sharing, slide shows or whiteboards.
One of the unique features of Tixeo's solutions is to make possible online meetings in 3D virtual
environments. The third dimension sharply enhances communication and collaboration.
Tixeo has many SME and corporate customers as Airbus, Raytheon, Flagstar Bank, BNP Paribas,
Conforama, Sogeti, DGAC...
For further information, please contact:
TIXEO
3D web conferencing software editor
Renaud GHIA, CEO
Cap Omega - CS39521
Rond Point Benjamin Franklin
34960 Montpellier
France
Phone: +33 467 750 431
Fax: +33 467 130 010
###