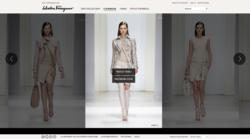 This work encapsulates what Pod1 is all about: creating unique and innovative online experiences that engage and delight customers, but also deliver real commercial results for retailers and brands.
New York, New York (PRWEB) February 11, 2013
New York based eCommerce web design and development agency Pod1, has just launched the latest version of the award winning online trunkshow for luxury Italian brand Salvatore Ferragamo.
The goal of this Magento e-commerce enabled site is to create a luxurious and engaging online environment for Ferragamo's trunkshow and pre-order offering. Ferragamo wanted to replicate their in-store experience, allowing customers to browse and pre-order the new season's collections before it hit the stores.
The site is built with the latest HTML5 and JavaScript coding standards so is optimized for tablets like the iPad and smart-phones. Fadi Shuman says, "Tablet's are now a bigger marketplace (and a far bigger growth opportunity) than desktop PC's, and from our research we know that the luxury shopper we are targeting uses these devices to browse and shop fashion in considerable levels. We needed to ensure the experience wasn't diluted or affected for the tablet/iPad user to protect the integrity of the brand."
The most unique and impressive element of this microsite is the "Style Yourself" area. Here, the Ferragamo shopper is able to view the full collection or can filter by category to find products she is interested in and can then start to assemble her own personalized look on the virtual, real-life model. The items are simply clicked upon and they appear on the model, styled and fitted perfectly. Layers can be replaced, accessories can be added and retracted easily and smoothly. All the while, a running real-time total of the products and prices which are being interacted with are displayed alongside the model, ready for pre-order. This section was developed to really empower the Ferragamo customer - both existing and newly acquired – so she can fully engage with the collection and interpret it in her own way. The customer becomes the stylist, and any combination of desired products can be developed into stunning, true to life "Looks" which can be viewed from different angles, shared across the shoppers' social media networks and ultimately, pre-ordered.
Wardrobing and outfit-building functionality can often be executed clumsily, and the outcome is unrealistic and unconvincing. We really wanted to ensure this tool was built to showcase Ferragamo's luxury product in an environment that was fitting and deserving of the brand itself, and that ultimately would create a scenario where the customer would feel confident pre-ordering complete looks at high price-points.
Pod1 CEO & Founder, Fadi Shuman said, "This is the best version yet with enhancements in the front and back-end so customers can enjoy the experience even more.
For more information on Pod1's Web Design & eCommerce services, and for further case studies please visit http://www.pod1.com/work
ABOUT POD1
For over 10 years, and based out of London and New York, Pod1 creates engaging ecommerce and marketing experiences to help brands and retailers sell more online.
Clients include: Beauty.com, TAG Heuer, The Limited, Stuart Weitzman, Salvatore Ferragamo, Nanette Lepore, Net-a-Porter, Lord & Taylor, Uniqlo, Kenneth Cole, Matthew Williamson and LK Bennett.
Their unique approach to website design and build, founded on planning and insight development means that the agency is consistently breaking new ground in the world of luxury and fashion ecommerce.
SERVICES

Ecommerce (An official partner with Magento, Demandware & Hybris)
Website design & development
Magento
Demandware
Hybris
SEO/SEM
Digital Strategy
Social media
Copywriting
Photography
CONTACT
+1-212-625-8590
PRweb(at)pod1(dot)com