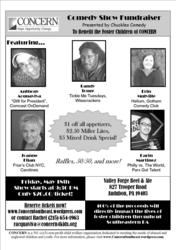 Doylestown, PA (PRWEB) April 26, 2012
FocusMX, a leading web design and marketing agency in Doylestown, Pennsylvania, announced today that it is sponsoring CONCERN'S 2nd annual comedy show fundraiser. The comedy show will take place on Friday, May 18th at 9:30 PM and will be held at Chuckles Comedy at the Valley Forge Beef and Ale in Audubon, Pennsylvania. Come join them for a night of comedy, drink specials, friends – all for a great cause benefiting children. Make your reservation now while there is still space!
This is CONCERN's 2nd comedy show – the first one took place in November and quickly sold out. All of the comedians performing will donate their time and talents to Concern. 100% of the money raised goes directly to benefit children in foster care throughout Southeastern Pennsylvania.
CONCERN is a (501)(c)(3) non-profit organization that dedicates itself to meeting the needs of abused, neglected, and delinquent children and youth. Since its inception in 1978, CONCERN has helped over 14,000 children and youth in need. For more information on CONCERN, contact them at 610-944-0445.
FocusMX is a nationally recognized web design and marketing agency. They work with clients throughout the United States designing cutting-edge websites infused with the latest online marketing techniques. For more information on FocusMX and their web design and marketing services, contact them at 1-877-681-0973.