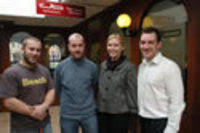 (PRWEB) March 22, 2009
As many businesses in Somerset and Wiltshire within the UK struggle through the current economic conditions, one leading local web design company has developed a solution that could bring thousands of new customers their way.
James Burfield Consultancy, of Midsomer Norton, Bath, UK, has created a new e-commerce package designed specifically for small and medium-sized businesses in the area, which uses highly efficient design methods to produce fully functional online stores at very low cost.
'With the economy now in recession, most companies just can't afford to spend £1500 on a bespoke e-commerce site,' says the firm's founder and online marketing expert James Burfield.
'Our new package includes a tailored website with online payments, a domain name and help to get the site listed on Google, for only £35 per month.'
James, who has been working in the industry for 10 years, believes that online trading holds vital opportunities for the area's businesses. He decided to act after seeing the effects of the recession on neighbouring companies.
'We've become friends with a lot of the shops and other businesses near our offices,' says James.
'But recently, they've been telling us they're struggling and we wanted to provide a service that would really help.
'Because the team at James Burfield Consultancy has become very efficient at producing successful e-commerce solutions, we're now able to translate that efficiency into very low-cost e-commerce systems.
'It's great that we can use our expertise to help local businesses through these tough times.'
With several companies already on board, James is very hopeful that the area's businesses can capitalise on the new service and find success online.
'In an ordinary shop you're always waiting for the next customer to come through the door,' he says. 'But e-commerce opens the door to thousands of new customers at once.'
###