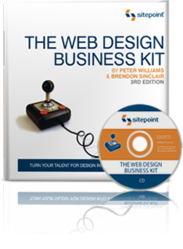 Having immediate digital delivery means that our customers are able to implement faster, and have much easier access to the resources contained in the Kit
(PRWEB) May 12, 2011
For over seven years, the Web Design Business Kit from SitePoint has been a vital resource for those wishing to build a profitable web design business. The 3rd Edition of the Kit was released earlier this year, and quickly cemented itself as one of the most highly regarded resources in the industry. SitePoint has now announced even more enhancements to this top-selling product.
Versatility of Access
Traditionally the Web Design Business Kit was delivered as a comprehensive 25 chapter document in a hard cover binder. Recognizing the growing demand for digital delivery, SitePoint customers will now receive the Kit as immediate download upon purchases in the following formats:

"Having immediate digital delivery means that our customers are able to implement faster, and have much easier access to the resources contained in the Kit" explained Mark Harbottle, SitePoint's co-founder.
"They can search, read and study from their monitors or portable devices, as well as having a hard copy on hand at their workstations."
Private Forum Access
The second new feature of the Web Design Business Kit has been the creation of a private forum within SitePoint, where users can ask questions, give and receive advice, and network with their peers. Access to this special forum is password-protected, and limited to purchasers of the Kit and SitePoint experts and moderators.
Exclusive Webinar with SitePoint co-founders
The creation and growth of SitePoint has been a true success story, and one that will be shared exclusively with purchasers of the Web Design Business Kit, via a private Webinar. In it, the co-founders of SitePoint, Mark Harbottle and Matt Mickiewicz share tips and advice on how they created and continue to grow the business.
There could not be a more relevant Webinar topic for people who are about to create their own web design business .
The 3rd Edition of The Web Design Business Kit
In updating the Web Design Business Kit, SitePoint acknowledged that the main reasons that online businesses fail is through lack of training and reliable resources. For those who have a creative streak rather than a business mindset, it is often the case that they need help in understanding how a profitable business is run.
SitePoint enlisted the help of Australian, Peter Willliams, who has successfully launched and grown multi-million dollar companies. Williams infuses the Kit with a unique blend of high level of web design and business expertise, from business set up to expansion and leverage.
In challenging economic times, establishing a business can be fraught with danger, but with the Web Design Business Kit, and the associated mentorship of Peter Williams, web designers are equipped with the resources needed to created a profitable business around their talents.
More information on the newly-enhanced Web Design Business Kit can be found at SitePoint.com
About SitePoint
SitePoint.com is an online magazine and book publisher for professional Web Developers, Freelancers and Web Design Firms. The SitePoint.com Website reaches 2.0 million unique visitors per month.
###