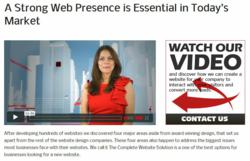 Burbank, CA (PRWEB) August 21, 2012
981 Media, a web design and video production company in Los Angeles, is pleased to announce their new responsive web design services. Many Los Angeles business owners struggle with display and indexing issues on their websites. 981 Media addresses this need by offering responsive, award-winning Los Angeles web design.
981 Media is thrilled to offer its services to those in search of a company offering responsive web design in Los Angeles. The company offers comprehensive web design services that include responsive design, which makes for websites whose display will not be determined by what kind of device they are accessed on.
The amount of people using mobile devices has been on the rise and is continuing to increase. As of January 2012, there are 45 million people in the United States that own tablet devices such as iPads, and almost twice that amount are using smart phones. This means that more than 145 million people are using mobile internet. It is estimated that by 2014, more people will be accessing the internet from their mobile devices than from their desktops.
Improper use of flash can result in a website that only displays well on some devices while displaying poorly or not at all on others. Not surprisingly, many websites have difficulty displaying properly on mobile devices, which can result in a loss of potential customers. 981 Media is a web design company in Los Angeles that understands this issue and offers responsive web design to remedy the problem.
Rather than create several different versions of the same website to accommodate each device on which it may be accessed, 981Media makes websites that respond appropriately to all the devices on which they may be accessed. This technology, which the company has aptly titled 'Responsive Web Design', is used to create websites that automatically resize themselves in order to fit any device.
About 981 Media
981 Media serves companies who want the very best marketing tools around and specializes in using multiple forms of media to promote businesses. They offer award-winning web design, video production, medical video production, corporate photography, mobile apps, and much more. They chose their name for its ability to represent what they give to their clients. The numbers 9, 8, and 1 mean completion, fulfillment, abundance, power, creativity, and confidence. 9 is also the square root of 81, and together they symbolize synergy and maximized outcomes. To learn more, give them a call at 877-981-6334 or get in touch at http://www.981media.com/contact-us.