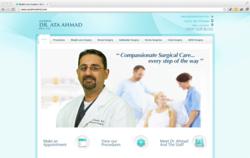 Adhere Creative came highly recommended for their creative design and marketing effectiveness...
Houston, Texas (PRWEB) January 15, 2013
Adhere Creative was chosen among several Houston web design companies for the project which included web design, web development, content creation, and HubSpot CMS integration.
Dr. Ahmad is a Board Certified General Surgeon by the American Board of Surgery with memberships in multiple medical societies and associations. He is one of Houston's top laparoscopic surgeons and needed a new website to reflect his work.
With the goal of creating more than "just a website," Adhere Creative implemented a comprehensive marketing tool that will streamline Dr. Ahmad's new patient generation, marketing automation, and patient accessibility. "Dr. Ahmad's new medical website functions as a resource center for Houston area patients seeking more information on a variety of common surgeries such as bariatric, breast, gallbladder, hernia, colon and GERD procedures," says Nathan Yerian, Director of Strategy at Adhere Creative.
Dr. Ahmad commented on the choice to partner with Adhere Creative for the website redesign saying, "Adhere Creative came highly recommended for their creative design and marketing effectiveness in implementing an online strategy. They did more than create a medical website. Adhere created an online resource for all of our surgical procedures with information that our patients need."
Content on Dr. Ahmad's website includes information on a number of common surgical procedures including weight loss surgery, breast surgery, gallbladder surgery, hernia surgery, colon surgery, and GERD surgery. Website visitors can also download a free e-book, "Weight Loss Surgery: Is it Right for Me?"
About Dr. Ata Ahmad: A native of New Orleans, LA, Dr. Ahmad received a medical degree from Louisiana State University in New Orleans. Dr. Ahmad has completed extensive training for several laparoscopic surgeries and is one of the most experienced laparoscopic surgeons in Houston, TX. Dr. Ahmad currently practices in Northwest Houston with surgical privileges at several Houston area hospitals.
About Adhere Creative: An inbound marketing agency and web design company in Houston, TX, Adhere Creative offers web design, SEO, content marketing, branding, and other marketing services. Adhere specializes in results-driven marketing initiatives for the Houston business community.