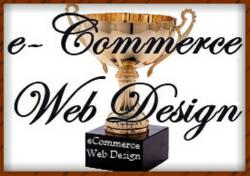 We hope they will use our web design competitions to guide them in their website build process.
San Diego, CA (PRWEB) October 19, 2012
10 Best Design (10BD), a renowned reviewer of web design companies, announced that they will soon begin accepting submissions for their very first monthly categorical web design competition. In the past, 10 Best Design has only ranked web design companies in their annual Best Web Design Firms awards, but this advancement allows for a specialized look at websites which directly compete with one another within their industry.
The first monthly web design competition will feature eCommerce websites. The eCommerce Web Design Competition will allow only websites whose primary function is to act as a platform from which to buy products or services (in some cases).
November's eCommerce Web Design Competition will only be the first installation of this monthly event. Following months will likely include non-profit, healthcare, commodities, emerging social networks, technologies, and many other web design competitions.
10 Best Design is committed to providing web design consumers with the best information, allowing them to find the web design firm which best matches their needs. 10BD management believes these targeted awards will further this initiative.
"Using these [targeted web design competitions], we can help people looking for a specific type of web design find a company with proven results and experience in that exact style of site," points out a 10 Best Design spokesperson.
10BD's Best Design awards has gotten the 10 Best Design name on websites such as CBS Moneywatch, the Boston Globe's Boston.com, and the San Francisco Chronicle's SFGate.com – to name a few.
In fact, the site's web traffic has been growing exponentially since it was first published roughly one year ago, and 10 Best Design's Twitter account grew by as much as double for a number of months in a row.
After appearing as 10BD's #1 Best Web Design Firm of 2012, Vento Solutions also admits to experiencing a significant and consistent increase in their web traffic.
Today, 10BD continues to prosper as they work to expand the reach of their awards and competitions. They expect that as they target more and more specific branches of web design, their ability to guide visitors of their site to the best of the best will only improve.
"We hope [site visitors] will use our web design competitions to guide them in their website build process," says the 10 Best Design spokesmen.