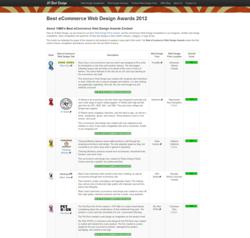 San Diego, California (PRWEB) December 03, 2012
10 Best Design compiles, reviews, and ranks the best web designs and web design agencies in North America. Their awards have been tremendously popular and they have been growing at an extremely rapid rate, but today, the organization takes a monumental new step as they release their first ever monthly web design competition results.
10 Best design is proud to announce the following winners of their Best eCommerce Web Design awards (November 2012):
1. Shoe Guru by Threefifty
2. 47 Brand by Silvertech
3. Tinkering Monkey by Quite Curious
4. Black Goat Cashmere by NAC Media
5. Pet Rock by My Web WOW!
6. Famous 4th Street Cookies by Singularity Design
7. Atom Bicycles by Ola Interactive Agency
8. Cellar Thief by Simple Flame
9. Seibei by Double Dragon Studios
10. Porch Potty by Border7
Each of the ecommerce web designs above are believed to be among the top that the internet has to offer. These 10 best ecommerce web designs stand apart from the thousands of other online stores as a result of their designers attention to detail and mastery of digital aesthetics.
In this contest, the 10BD team received entries from around the world. After much deliberation and implementation of the organization's proprietary "10 Best Design Analytic Review" the online stores above were given the title of Best eCommerce Web Designs of 2012.
Shoe Guru was named the #1 ecommerce site of the year. It is an online shoe store which was designed to give trendsetters a place to buy shoes and sneakers which are ahead of current fashion movements. The ecommerce web design created for this website successfully matches the trendiness of their products through a simplistic and minimalist design.
The ecommerce web site itself mimics the look and feel of being in a real shoe store. This site was designed by Threefifty, a web solutions agency located in Edmonton, Alberta. This site was named the Best eCommerce Web Design for its intuitive UI/UE and its incredible visual balance and beauty.
A close second in November's monthly web design competition is the amazingly stylish 47 Brand. This ecommerce web site was designed in a very modern way. It has the feel of an interactive magazine or catalogue. Large images and easy-to-use menus allows visitors to sift through products in an organized and targeted manner.
The 47 Brand ecommerce site, which sells fan apparel licensed by the NFL, NBA, MLB, and NHL, was designed and built SilverTech, Inc. based in New Hampshire.
10BD's Best Design firms awards have been helping individuals and businesses looking for web design services across the country. The organization first decided to embark on their path to monthly web design competitions when they realized that they could be doing even more to guide site visitors in the search.
The Best eCommerce Web Design Competition is meant to act as a guide for anybody thinking about building an online store. While 10BD's overall best web design firms are considered the best design agencies in general, the sites and companies featured in these category-specific sections can aid those looking for particular types of web development experts.
For more information about 10 Best Design or the Best eCommerce Web Design of 2012, don't hesitate to contact the 10BD team.