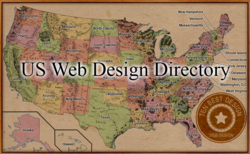 We won't just list their company in our web design directory, we give them a chance to win one of our awards [in 2013].
San Diego, California (PRWEB) September 18, 2012
10 Best Design's Best Web Design Firms of 2012 Awards were announced several months ago. The awards were given to companies from ten different states whose mastery of web design made them exemplary in their field. Now, the organization has announced that for an undisclosed amount of time, firms will be allowed to submit to their web design directory at no charge.
The significance of this web design directory open call is goes far beyond having a link on the organization's website. Being in this directory gives the firm the option to be included in next year's rankings and events.
"We won't just list their company in our web design directory," a 10 Best Design spokesperson said. "We give them the chance to win one of our awards [in 2013]."
Indeed this web design directory is more advanced than most others on the internet. The companies are asked to submit a substantial amount of information about their team. Each directory submission is suggested to include services provided, a company logo, and a unique description of at least 200 words to describe technique, style, and other differentiating attributes.
Those web design firms accepted by the 10 Best Design staff will be listed on their respective state's directory page. Additionally, information about the company will be compiled to create a unique business profile on 10BD's website.
Last year's winners, including Vento Solutions, maoStudios, Bayshore Solutions, Magic Logix, and Orbit Media Studios – among others, were scrutinized in a slightly different fashion. 10 Best Design conducted independent research about each of the firms in the 2012 directory in much the same way that they will this coming year. A major difference is that firms did not submit any information of their own to the competition.
10 Best Design believe this new method will further improve their lists and awards of 10 Best Web Design Firms for 2013.
Check here to Submit to the Directory.