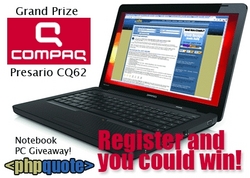 Our existing sites have over 100,000 registered members and deliver millions of page views each month. We send our members thousands of clients every week. These new directories will specialize in niche creative markets.
Atlanta, GA (PRWEB) April 8, 2011
WDI is launching a promotion for new creative and technology vendor and service provider directories. WDI is giving away a brand new Compaq Presario laptop computer to one lucky random winner. To enter the free giveaway participants simply complete registration at one of the websites listed below.
The contest eligibility period will run from March 31st, 2011 through May 1st, 2011. Details are available on the WDI Homepage (http://www.webdirectoriesinc.com). The grand prize is a new Compaq Presario Notebook PC. The second and third prizes are $250 and $100 credit packages from design quote (DesignQuote.net) where designers can exchange credits for get fresh verified sales leads.
The wide range of categories will benefit many technology and creative service providers. Freelancers and firms from professional writers to PHP programmers can promote their services on these popular directories. These new marketing directories will also give freelancers and small businesses new ways to reach more clients. Registration on the directories is always free.
Membership includes unique member profiles, online virtual portfolio's and much more! Each site registration counts as another chance to win. Only individuals and businesses that provide the service described for each specific directory can register.
WDI (Web Directories Inc.) runs several popular directories. WebDesigners-Directory.com, FreelanceDesigners.com and DesignQuote.net alone boasts over 100,000 registered users and millions of pageviews each month. These new directories grow quickly, ultimately reaching into specialized niche markets. The directories make it a win/win resolution for the individual freelancer and larger companies alike.
Just by registering in one of these directories, creative professionals receive these great benefits.
A free listing in the directory where prospective clients look for vendors.
Ability to upload their logo to appear in their listing and profile.
A custom profile page with integrated Google Maps.
A counter to track how many people view your profile.
Ability to list specific services and be found via those services.
Ability to upload work examples in the free portfolio.
A static link back to their website.
The new directories in this promotion are as follows:
Logo Designers Directory: Logo Designers
Search Engine Optimization Services: SEO companies
E-Commerce Web Designers:E-Commerce Web Design
Web Hosting Services: http://www.Hosting2020.com
Freelance Writers Market: Freelance Writers
PHP Programmers Directory: PHP Programmers
Grand Prize Details:
Compaq Presario CQ62-410US Notebook PC
Genuine Windows 7 ™ 64-bit Home Premium
2.2 Ghz Intel™ Celeron™ 900 Processor
15.6" High Definition HP BrightView LED
250 GB HDD (7200 RPM)
2GB RAM (2048MB DDR3 SDRAM)
802.11b/g/n WLAN
LightScribe Super Multi 8x DVD RW
6-Cell 47 WHr Lithium-Ion Battery
Intel Graphic Media Accelerator 4500M
About DesignQuote
DesignQuote connects clients and designers by providing registered designers with qualified and verified leads. DesignQuote posted over six million dollars worth of design projects in 2010.
No purchase necessary.
# # #