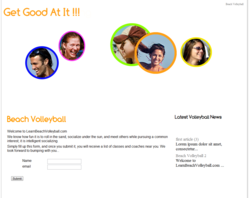 ...I hope that this website becomes something of a beach vollleyball social media hub...
Los Angeles, CA (PRWEB) January 31, 2012
Los Angeles web design company, websonalized.com, announced the launching of the new website LearnBeachVolleyball.com. Although in its early stages, the new website will grow to host a digital community that is able to connect and communicate about beach volleyball classes, pick-up games, and other resources.
The web design is colorful and fun. Animated images of players bounce up and down, across the header, giving the visitor a sense of excitement.
Veronica Cisneros, lead web designer and developer at websonalized.com said: I am excited about this website because I am a beach volleyball player. When I first wanted to get involved in this sport it was difficult to connect with the right people, and I hope that this website becomes something of a beach vollleyball social media hub. Beach volleyball is an intelligent way to socialize and I hope many benefit from this website.
Websonalized.com offers all clients search engine optimized websites, one year hosting, $100 credit Google advertising, one year basic support and maintenance with any web design package. The company's mission is to help managers and business owners carry their message across the Internet.
For inquiries or questions regarding services and pricing for these web services, please fill up this form: http://websonalized.com/contact-us-site-administration.html.
About websonalized.com
Small business web design company websonalized.com was formed last year. Whether a business already has a website or needs one developed, websonalized.com gives businesses the tools to manage their sites and teaches business owners standard practices to gain visibility throughout the internet.
###