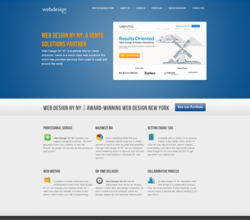 Web Design New York is an emergent player in NYC's web design, web development, and online marketing industry...
New York, NY (PRWEB) July 31, 2012
When Web Design New York was officially announced as part of the Vento Network in Late April 2012, Vento Solutions itself was expanding in both scale and scope. This past week, Vento Solutions was not just selected as the number one web design agency in New York, but it was actually awarded the number one position in the 10 Best Web Design Firms of 2012 throughout the entire country by 10BestWebDesign.com.
Vento Solutions is a New York City based agency which houses several sub-brands underneath it. Web Design New York, one of the company's driving forces in lead generation and online marketing, provides a localized version of the award-winning team.
Web Design New York is an emergent player in NYC's web design, web development, and online marketing industry. The company works with clients around the world. They now manage start-up to enterprise-sized accounts from places such as New York, San Francisco, Rio de Janeiro, and even Hong Kong.
"Web Design NY NY is just the tip of the iceberg," says a Vento spokesperson. "We already have Network members on the West Coast, and we are seriously looking into assembling an official Brazil team in either Rio or Sao Paulo."
Vento's satellite office strategy allows them the luxuries of a large network with greater resources at the cost of a smaller team.
Following Web Design New York's induction into the Network, the Vento Organization began taking on larger projects and providing a greater number of services. This past May, Vento Solutions announced another new addition, US SEO SEM.
US SEO is one of America's top search engine optimization and online marketing firms. It has proven its ability to beat out competition for relative keywords, and the team has even developed a brand new white hat SEO tactic, that they claim has the potential to change the way SEOs work today.
Web Design New York, NY is powerhouse in NYC's design and development market. When looking for the best web design in the five boroughs, Web Design NY NY is the premier destination.
Vento Solutions is currently in the process of giving the Web Design New York website a 100% overhaul to make the company site as user friendly and visually appealing as possible.