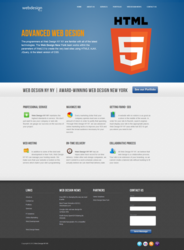 Web Design NY NY seeks to become amongst the top providers of web design in New York!
New York, NY (PRWEB) April 27, 2012
Vento Solutions is a growing web design, web development, and online marketing firm which has worked with clients from all over the world. They have managed start-up to enterprise-sized accounts from places such as New York, San Francisco, Rio, and even Hong Kong. The company has now adjusted its sights to become more accessible to clients here in the United States though its brand new Web Design NY NY.
Web Design NY NY seeks to become amongst the top providers of web design in New York. The Web Design NY NY staff is extremely familiar with search engine optimization (SEO), online marketing, and every form of web development – with the exclusion of Adobe Flash which they feel has become outdated.
In fact, Web Design NY NY argues that businesses which have developed a Flash-based website should highly consider redevelopment using the Vento Solutions team in the near future.
In November 2012, Adobe announced that they will no longer be developing Flash for mobile devices.
A Vento Solutions spokesman said, "We all know mobile compatibility is becoming more and more important. At Web Design New York, our team can handle projects involving the most complex HTML5 code, so we're prepared for any type of website."
Whether your site is becoming outdated or you want to have a completely new site built from the ground up, now is the time to start planning, and Web Design NY NY will be there to guide you through every step.
Web Design NY NY also provides the best web design news feed online. This news feed offers information on web design, as well as hacker news, HTML5 news, SEO news and more.
Web Design NY NY is located in Manhattan, New York and can be reached via the Vento Solutions toll free number at (866) 211 - 3111.