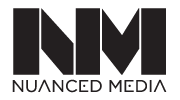 "At Nuanced Media, we strive to create the best website design in Arizona"
– Ryan Flannagan, MBA, CEO, Nuanced Media
Tucson, Arizona (PRWEB) April 13, 2013
Nuanced Media prides itself in making excellent web designs specialized to the client's business and the market it's in. The experts at Nuanced Media deal in creativity, focused business strategy, and increasing the internet traffic and revenue of Tucson businesses and organizations. At Nuanced Media, the goal isn't just developing the right website and strategy. It's about developing the Tucson community through success and connectivity.
Nuanced Media works in developing and optimizing Tucson websites using the Wordpress platform. Wordpress is a content management system used by over 14.5% of the top 1 million websites in the world. With Wordpress, Nuanced Media personalizes business websites, making them a unique and effective platform for growth.
Recently, Nuanced Media has begun expansion in an attempt to claim the Phoenix market as well.
"At Nuanced Media, we strive to create the best website design in Arizona," said Ryan Flannagan, MBA, CEO, Nuanced Media.
The services of Nuanced Media are affordable and timesaving. With careful consultation they reduce time otherwise spent on frivolous marketing tactics, and with their web traffic experts Nuanced Media maximizes the Search Engine Optimization of a Tucson website to tune it to the best possible web viewership.
Nuanced Media aims to make its clients a notable presence in search engines. Using techniques such as key word focus and targeted marketing, they work to put the websites of Tucson businesses at the top of the page in Google search results. With their creative and professional website designers, they make websites appealing, unique, and effective at connecting the Tucson business with its future clients and the community as a whole.
About Nuanced Media:
Nuanced Media is a revolutionary marketing, website design and business consulting website. We pride ourselves in our hard work and dedication to drive more consumers towards your webpage. Through social media marketing, search engine optimization, and personalized graphic design we ensure that your company will love our work.
Follow us on Facebook and Twitter