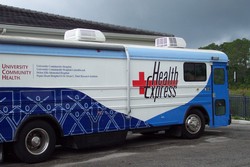 The number of health problems in our society that are entirely preventable through the proper management of diet, exercise and lifestyle factors is astonishing
Tampa, Fla. (Vocus) April 10, 2009
Magnetic, a full-service Web development firm, is promoting good health and healthy futures for its employees as an inaugural partner in healthy+company, a program from the University Community Hospital (UCH) Foundation focused on advancing wellness in the workplace.
"The number of health problems in our society that are entirely preventable through the proper management of diet, exercise and lifestyle factors is astonishing," said Jennifer Bakunas, President, Magnetic. "That is why Magnetic wants to do everything we can to instill in our employees the value of leading healthier lives and provide them with the tools to do so. That is what healthy+company does."
"For the past couple of years, Magnetic has been a valued partner of University Community Health," said Norm Stein, President and CEO, University Community Health. "When our Foundation launched its healthy+company initiative, Magnetic was top of our mind to invite. We know how much the Bakunas' valued the health of their employees. Therefore, it came as no surprise that Magnetic was the inaugural partner of the program."
The healthy+company program makes screening for various health issues, such as cholesterol, blood sugar, blood pressure and osteoporosis, convenient by bringing the service right to the company's doors. A University Community Hospital bus will make bi-annual visits to the Magnetic office, providing employees with an easy, confidential way to keep an eye on key health indicators.
Also, because education is a key part in promoting wellness in the workplace, its participation in the healthy+company program provides Magnetic with access to the UCH Speakers Bureau to help its employees stay current on the latest information on health, wellness and prevention. Magnetic employees will take a survey to determine the health issues that concern them most. Based upon that information, speakers will be chosen from UCH's qualified staff of healthcare professionals, including physicians, administrators, nurses, dietitians and other specialists, to come to the office and talk with employees throughout the year.
Employees will also receive UCH's quarterly newsletter, Lifelines, and Magnetic will be recognized in the UCH Foundation newsletter and bi-annual report.
"Rather than an employee having to schedule a doctor's appointment and take time off work, we are bringing everything right here to them," said Bakunas. "That convenience, coupled with easy access to important health information, eliminates any excuse our employees may have to ignore warning signs or health issues. Our hope is that participating in the healthy+company program will lead to a healthier, happier workplace."
About Magnetic
Based in Tampa, Fla. and founded in 1997, Magnetic is a full-service Web development firm that helps businesses reach their full web potential through strategic consulting, Web design, e-commerce, database integration, content management, systems integration, Web marketing and Web hosting. Named the 2007 Small Business of the Year by the Greater Tampa Chamber of Commerce, Magnetic offers both business and technical expertise to help medium- and large-size businesses achieve greater profitability and sales through the Internet. For more information on Magnetic, please visit http://www.magnetic.com.
# # #