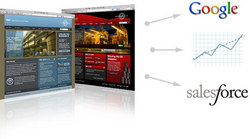 Boulder, CO (PRWEB) August 19, 2008
Is the Homepage Still as Relevant? Traditionally many interactive agencies and Web Design companies blindly steer clients in to putting almost 80% of their design efforts on the homepage. It's the way it's been done it since day one. In doing so, clients have become conditioned into expecting and believing that the homepage deserves the most attention. It's time to rethink the old ways.
One of our ecommerce clients is actually getting more traffic to two interior subpages before the homepage shows up as the 3rd most visited landing page. Another client, a software company, is sending the bulk of their traffic to a software download page.
Why is this occurring?

Clients are marketing unique URLs which redirect out to interior page content. For instance, if we are linking the names of our co-founders from an external site we would use http://imulus.com/agency rather then http://imulus.com
Google AdWords are targeted to specific landing pages for better conversion.
Visitors are bookmarking and linking to deeper content.
Search engines results are sending visitors directly to subpage content.
Why this is good for your site?
It's all about "thinning the herd." Rather then hoping the homepage speaks to everyone, interior subpages allow you to focus the design and content around fewer, but more qualified, visitor types. Users are seeing the information they need instead of a bunch of fluff.

Conversions go up. The more relevant your subpage content and design, the higher the likelihood that visitors will convert.
You can ask the visitor to interact with greater success.
Links to interior pages, also known in SEO circles as "deep linking" gives your entire Web site more weight in the search engines.
How should you respond?
Start looking a bit deeper into your Web site analytics to uncover the top 3 to 5 most visited landing pages, other then your homepage. Start with the most visited page and examine the content with greater scrutiny. Ask yourself if the content speaks to the audience? Does that page ask the visitor to take action? Is the page visually appealing? All of these questions will help you refine your message and dial it into matching the needs of your visitors.
Start "deep linking" to your content from external sites. If you are doing any online advertising or search marketing don't send the clickthru URLs to the homepage. Instead send those links to relevant page copy. If you don't have relevant copy then start designing and building a new page.
Measuring the results
You can't gauge your success until you have some basic measurements in place. If you don't at least have Google Analytics installed, go sign-up today. Analytics will allow you to measure the performance of the site before and after the changes to your subpages take place. As your results improve start experimenting with various layouts for set periods of time. This is called A/B testing and it can drastically help you understand what works best for your audience.
About Imulus
We are Imulus® -- an Denver/Boulder interactive agency specializing in helping customers find engaging ways to communicate their message online, offline, and socially. Effective communication is at the heart of attracting customers, building brands, and developing products. We don't boast about our success by the awards on our shelves, or how flashy we can make our sites. We measure our worth by our clients' continued interest in doing business with us. We're an interactive agency with the passion and drive to deliver great results. Get in touch and see how we can help you.
###