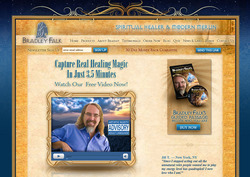 Achieving this honor underscores our uncompromising dedication to quality and innovation. The team at Magnetic remains focused on our vision of providing the finest in internet design, marketing, and services
Tampa, FL (Vocus) July 28, 2009
Magnetic, a full-service web development and Internet marketing firm, earned recognition for outstanding achievement from Interactive Media Awards (IMA) for the superlative design, development, and implementation of the Bradley Falk website. The Outstanding Achievement award was presented on April 28, 2009.
Websites recognized with these awards are considered the top choice in their respective markets. Every site is evaluated on five criteria: Design; Content; Feature Functionality; Usability; and Standards Compliance. Only those sites that obtain exceptional scores in each category are considered for an award.
"Achieving this honor underscores our uncompromising dedication to quality and innovation. The team at Magnetic remains focused on our vision of providing the finest in internet design, marketing, and services," said Magnetic President Jennifer Bakunas.
The IMA judging panel consists of distinguished professionals from the Interactive Media Council (IMC), a non-profit organization dedicated to elevating quality on the web. "Gaining this recognition from other leaders in the web development industry illustrates our continued commitment to excellence in web design and development," said Bakunas.
Each year the IMA recognizes the best websites in each field. The Bradley Falk Website, which won the Spirituality category, represents Magnetic's second IMA recognition; Magnetic also won an Outstanding Achievement award for the Pharmaceutical category in 2007, with the RxPop Website.
About Magnetic
Based in Tampa, Fla. and founded in 1997, Magnetic is a full-service Web development firm that helps businesses reach their full web potential through strategic consulting, Web design, e-commerce, database integration, content management, systems integration, Web marketing and Web hosting. Named the 2007 Small Business of the Year by the Greater Tampa Chamber of Commerce, Magnetic offers both business and technical expertise to help medium- and large-size businesses achieve greater profitability and sales through the Internet. For more information on Magnetic, please visit http://www.Magnetic.com.
###