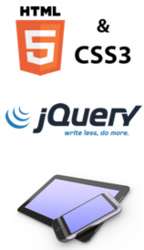 Thanks much for the GREAT webinar. Everything was very easy to understand.
Sebastopol, CA (PRWEB) February 02, 2012
Webvanta has created three new online courses for designers with modest (or minimal) technical web skills, but who want to design great websites.
As the web has evolved and blossomed, web design has become very complex. Combined with ever-changing technology, creating great websites has become very challenging for designers who aren't technically oriented. These courses provide a painless way for designers to become more technically proficient, improve the quality of their work, and gain the confidence to take on more demanding web projects.
The courses are well suited for designers who plan to have a developer do the actual site construction, as well as for those who plan to do their own coding. Even if someone else is going to do the technical site construction work, it is essential for designers to understand the core technologies of the web: HTML5, CSS3, and JavaScript/jQuery.
Having a strong foundation in these technologies, which the courses provide, enables designers to create designs that take full advantage of web technology without being overly complex to build.
The material is divided into three courses:

HTML5 and CSS3 (starts March 1, 2012)
JavaScript and jQuery (starts March 13)
Designing for Mobile (starts March 29)
Each course consists of four one-hour sessions, conducted as a Webinar (online meeting), once per week. In addition to live Q&A during the sessions, the instructors will answer questions via email.
The cost is $99 for each four-session course. Advance registration is required, at:
http://www.webvanta.com/online-courses-for-web-designers
About the Instructors
The course instructors are all professional web developers who bring both expert technical knowledge and outstanding teaching skills to the courses.
Michael Slater is CEO of Webvanta. He's been involved with website development since its earliest days, at several startup companies and at Adobe. He's taught hundreds of seminars and is a well-known teacher and presenter. He's the primary producer of Webvanta's extensive series of free webinars and online courses, and also co-produced the popular Learning Rails podcast.
Christopher Haupt is Webvanta's Chief Technical Officer. He's an expert in server-side technologies (especially Ruby on Rails), as well as a top JavaScript programmer, with decades of experience in software development. He has led engineering teams at Adobe, taught computer science at RIT, and co-produced the Learning Rails podcast.
Andrew DesChenes is Director of Services at Webvanta, where he manages the development of custom sites while also leading Webvanta's support team. As someone who is deep in the code of dozens of sites every week, Andrew brings an experienced, pragmatic perspective to every discussion.
Lisa Irwin is a Senior Developer at Webvanta. She builds custom sites for Webvanta's clients, keeping her at the leading edge of web technology, and she's an experienced teacher.
About Webvanta
Webvanta was co-founded by Michael Slater and Christopher Haupt in the fall of 2007. The two Adobe alumni shared a vision for a hosted service that would make building complex websites much easier, while eliminating the maintenance headaches.
Webvanta provides site-building services for marketing departments and professional designers, as well as a hosted CMS that streamlines the creation of dynamic, database-driven sites.
# # #