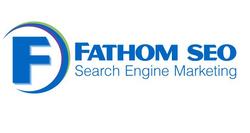 Our website offers a wealth of information for anyone looking to better understand the Search Engine Optimization industry. We wanted to make this information organized and readily available with an aesthetically pleasing website design
Cleveland, OH (PRWEB) August 13, 2007
Fathom SEO, a Search Engine Marketing Company, was named among The 15 Best SEO Company Website Designs Worldwide by SEO 2.0 for its recent site redesign.
Based on a Windows platform, Fathom SEO built its predominantly text-based website with CSS and Javascript elements. http://www.fathomseo.com
Bill Fox, Fathom SEO President, wanted the redesigned site - launched in early 2007 - to have a fresh look with user-friendly content.
"Our website offers a wealth of information for anyone looking to better understand the Search Engine Optimization industry. We wanted to make this information organized and readily available with an aesthetically pleasing website design," Fox said.
The SEO 2.0 article describes how rare it is to find a search engine marketing company with a compelling website design. Proud to be on The 15 Best SEO Company Website Designs Worldwide list, Fox said the SEM company will continue to add features to its ever-expanding website.
"We have a popular Search Engine Marketing Forum with a host of regular contributors, as well as a revamped SEM blog. And we will continue to offer articles, case studies and white papers with a variety of information about the Search Engine Marketing industry," Fox said.
Fathom SEO is a holistic Internet marketing firm with an emphasis on Natural Search Engine Optimization in addition to Paid Search (PPC), Online PR, Link Building and integrated Permission-Based Email Marketing. Since 1997, Fathom SEO has efficiently connected sellers with buyers at the moment in time they're interested in products and services. Clients include Eaton Corp., Bissell, Sauder, FedEx Custom Critical, Cleveland Clinic, and more than 125 others. Fathom SEO produces popular industry reports, provides expert speakers at national conferences (including Search Engine Strategies), and recently was named among the Top 20 search engine agencies by Advertising Age magazine.
###