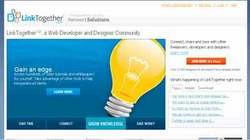 Herndon, VA (PRWEB) April 14, 2009
LinkTogether™, the recently launched Web developer community from Network Solutions®, has already given Web designers and developers another avenue to grow business, show talents and make more money. This has expanded, as the Network Solutions destination for Web developers and designers now provides an outlet for members to sell original content.
In addition to previously available resources for the Web developer community, LinkTogether members can now share original content with the community for free, or they may list items for sale. Members can create a seller's account allowing them to list items, assign and price for sale, and track sales. Network Solutions will collect a 15 percent seller's fee.
"Creating a seller's account will allow Web designers and developers to sell and track sales of the files and content they upload," said Warren Smith, director of product management at Network Solutions. "By providing a new avenue for profit, we hope to help Web developers draw additional attention to their work and talents on the already exciting Web community developing at LinkTogether."
A free LinkTogether membership allows Web developers to list up to two items for sale at any one time. Pro members may sell an unlimited number of uploads. Pro membership is available for $19.99/month. To list items for sale, members must have a valid PayPal® account on file in order to collect payment.
Smith added, "All of this is in addition to the existing community benefits, including ready-to-use tools such premium web site templates and customizable legal documents, educational whitepapers and video tutorials, the opportunity to bid on exclusive projects or jobs, and special savings for web developers and designers on Network Solutions products and services".
For more information, or to join the community of Web designers and developers, visit http://www.LinkTogether.com.
About Network Solutions:
Network Solutions is focused on helping small businesses start and market their companies on the Internet by offering a full range of Web-based services that include: hosting, Web site design, ecommerce solutions, online security, search engine marketing and domain name registration services. Drawing on 30 years of experience, Network Solutions makes it simple and affordable for our customers to build and manage an online presence. Customers receive the best customer service in the industry, which has been recognized by J.D. Power and Associates® Certified Call Center program for providing "An Outstanding Customer Service Experience" for the last four consecutive years. Customers around the globe trust Network Solutions to manage more than 7 million domains, over 2 million e-mailboxes, and hundreds of thousands of Web sites. Are these numbers accurate, because I'm not sure but we may not have over 7 million domain names and are we sure we want to state that we have over 2 million e-mailboxes and hundreds of thousands of web sites Network Solutions makes it easy for small businesses to get online so they can have more time to do what they do best - run their companies. For more information about the company visit About Network Solutions.
###