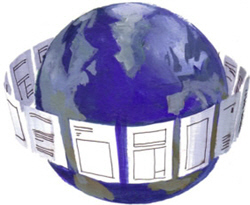 We are printing about 1,200 car insurance policies every day. Before, it took eight hours, now, 84 minutes
Suwanee, GA (PRWEB) May 21, 2008
DocPath announced that its cutting edge software for high speed generation and distribution of documents over the internet, DocPath WebDocs Generation solution, has gained market leadership in the Spanish banking and insurance sector in 2007.
A high number of important Spanish financial and insurance enterprises have already implemented DocPath WebDocs Generation, seamlessly, integrating the DocPath internet document generation solution, with their core business applications. Insurance companies such as Reale, Mapfre and Groupama, and financial institutions such as Caja Madrid, Santander Consumer and InfoCaja have all confied in DocPath for internet generation and distribution of their business documents in record time.
"We are printing about 1,200 car insurance policies every day. Before, it took eight hours, now, 84 minutes" states Reale´s IT responsible, Marío Martín.
'We were looking for a modular (that is, easy to extend and reconfigure) system which supports high-volume document production, that can be easily integrated with existing applications, and with an attractive visual design for our partners and employees,' Martín explains.
Time and money. On average, the company´s high-volume production of business documents has increased 300%. In addition, generation of complex documents has incremented 40%. DocPath offers flexible and modular solutions that meet the most demanding document management requirements
Internet Document Generation and Distribution never has Been so Easy.
DocPath WebDocs Generation is a solution that enables on-demand, real-time generation of dynamic documents in Web/Internet and Intranet environments.
How does it work? The solution receives requests from users, connected via Web browsers, to their business applications. Those send the requested data to the DocPath WebDocs Generation solution, which is responsible for merging the data with the previously designed templates. Next, DocPath returns a PDF document to the internet browser of the user that sent the request, in a totally controlled manner. Allowing the generation, on-the-fly, of any kind of business or transactional document, based on real-time data.
Mainly thanks to its wide possibilities and low costs, Internet technology is gaining increasing importance among companies. DocPath responds to these needs by offering enterprises the required connectors for seamless integration of its software with Java and .Net applications and enabling real-time document generation locally or via the Internet.
The DocPath Solution implementation does not only support batch (high-volume) production and document generation at delegation offices distributed all over the country or world, but it is also an excellent instrument for spreading information and all types of documents over the Internet, which enables enterprises to use a single solution for the entire document production process.
In little time DocPath's Internet Document Generation Solution, based on widely proven technology, has taken the lead in the Spanish banking and insurance sector, and adoption of its WebDocs Generation solution is rapidly increasing all over the world.
According to Julio Olivares, DocPath founder and CEO, 'This solution provides large enterprises with the required technology to easily manage their critical documents in Web environments, enhance their corporative image, increase the number of client-enterprise communication channels, and all in a totally integrated process.
An important number of different banking and insurance companies have already implemented WebDocs Generation over the past year, the Spanish market has manifested its confidence in the solution, and demand is increasing,' confirms Olivares.
About DocPath:
DocPath is a multinational document technology software producer. Founded in 1992 in Madrid (Spain), the company operates two development centres and its document solutions, apart from having been implemented in many large Spanish companies, are distributed by its parters to various Asian and European countries.
DocPath Corp. takes care of all North American customers from its Suwanee GA facility. Its customers of first-line international enterprises from different sectors, like Banking, Insurance, Government and Industry and Distribution, all have seen how DocPath software has simplified the difficult task of designing, generating and distributing their business-critical documents. In addition, DocPath spends half of its revenue on R&D, key area in its success.
Please, do not forget to download the DocPath Introduction Letter and DocPath Advantages Brochure, which you can find on the right hand side of this Press Release.
Press Contact:
Betty Bales
DocPath Corp. - United States of America
Phone: (678) 714 3400
###