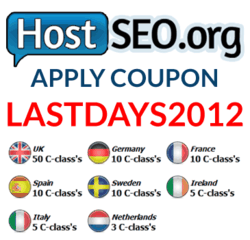 Apply the coupon "2012LASTDAYS" during checkout for an additional 10% off your total purchase price.
New York, New York (PRWEB) December 04, 2012
HostSEO.org (http://www.hostseo.org), a provider of IPs for web hosting, increases its IP inventory as just a couple months ago the RIPE NCC (The European IP Authority) announced it was down to it's last few IP blocks. ARIN (American Registry for Internet Numbers) and APNIC (Asia Pacific Network Information Centre) made similar announcements in 2011. This officially signifies the end of available ip's on the internet, leaving only those who have ip reserves to be able to issue them.
The same IPs that are released by RIPE, are used by web hosting companies to put websites on the internet in Europe. HostSEO.org takes this a step further and allows businesses with multiple websites to host them each on a different IP range.
It has long been known amongst SEO experts that the use of Class C IPs in a website network increases website exposure amongst search engines.
A website, just like a personal internet connection, is assigned to an IP address. An IP address is a four-part digit: aaa.bbb.ccc.ddd. If you are the owner of multiple websites, it is wise to put each website on a different IP range. This tells Google, and other search engines, that there is diversity amongst the websites which could lead to better overall search rankings.
SEO Web Hosting is web hosting tailored to SEO professionals. It allows for online marketers to build SEO networks using multiple IPs, each on a different C Class, or IP range. This business has become more lucrative as IP addresses on the web are running low. HostSEO.org stocked up on these IPs, allowing their clients to grab them before they run out.
HostSEO has added significant inventory from all over Europe, allowing country-specific IP selection. HostSEO now offers UK, German, French, Spanish, Swedish, Irish, Italian, and Dutch IP's. In addition, HostSEO continues to provide up to 100 c-class's in the continental United States.
To take advantage of HostSEO.org's offer, visit their website and choose between shared hosting and dedicated server plans. Apply the coupon "2012LASTDAYS" during checkout for an additional 10% off your total purchase price. The coupon locks in your savings forever, if registered in 2012!