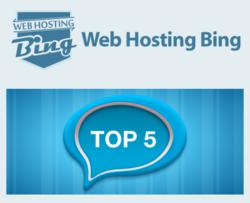 San Francisco, CA (PRWEB) May 09, 2013
Instead of taking hours on researching web hosts, reading hosting reviews, and comparing with web hosts hand by hand, WebHostingBing.com (http://webhostingbing.com) has brought with a simple list which is efficient and quick for beginners to find a web host for blogging in five minutes. The visitors to WebHostingBing can get the summarized information of the top five recommended web hosts, and easily make a purchase decision based on the editors' unbiased review and secret unveiled.
The selection criteria of web hosts recommended at WebHostingBing.com includes price, uptime, stability, loading speed, support for blog-industry standard software, and knowledge and experience of technical support.
"We understand the various requirements bloggers have, and uptime and stability are surely at the top of the list. When a server or network is down, the blog is entirely invisible over the Internet. This may not only lose the temporary web traffic, but lose the credit of blog in the blog subscribers and search engines", said Lucy Liu of WebHostinBing.com.
Compared with some other web hosting review sites list a lot of web hosts with massive information, WebHostingBing.com only provides a list of the top five web hosts with the concise information for blogging and purchase, including key technology, hosting extras (free domain name, marketing credits, etc), purchase security (money back guarantee, payment method, etc), and independent rating on each web hosting performance items.
The top five web hosts include BlueHost, InMotion Hosting, WebHostingHub, HostMonster and GreenGeeks, selected over their competitors for the flawless network of interlocking computers, a design that provides cheap peer-based hosting that's reliable, quick, and consistently stable. These five web hosts were also chosen for the rich web hosting experience of over eight years, which all have the brilliant reputation in web hosting communities.
Founder Lucy Liu has also introduced an approach to save money in web hosting purchase. "The site's main mission is to help readers pick up the right web host in 5 minutes. We're also offering exclusive coupon codes and promotional links of BlueHost, InMotion Hosting, WebHostingHub, HostMonster and GreenGeeks – save up to 50% compared with the regular price," she shared.
Lucy Liu started in web hosting business in 2002, and established her first web hosting review & ranking site BestHostingSearch.com in 2006. Four years later, she became a founder leading a start-up with seven employees in San Francisco, CA. Now, her company has had 10+ employees and been managing six famous websites.