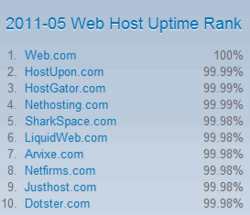 Uptime history is critical information to know how reliable a web server might be. With Free Uptime monitoring service from HostUCan, you could be the first person to know your site is down
(PRWEB) June 14, 2011
HostUCan.com, a platform focused on helping people find the ideal web hosting solution, today published their first Web Hosts Uptime Ranking Report and announced the opening of their uptime monitoring service to the public for free.
Currently, over 100+ top web hosts are monitored by HostUCan.com. "More will be added in the coming months," said by Lin.Zheng, founder of HostUCan.com. In this uptime ranking report, Web.com is the only company who receives 100% uptime in last month, followed by HostUpon and Hostgator at 99.99%.
"Uptime of a web host is collected by monitoring the official site of each web host, not the servers in their data center. There should be some variance between this and the uptime data from the sites of their customers. But those are still valuable data people should refer to before making a purchasing decision - if a web host cannot maintain their own site well, it would be hard for them to take care of yours," Lin.Zheng said.
Besides Web Hosting Uptime Ranking Report, HostUCan also integrated these information into the web host company profile in HostUCan.com. Let's take WebHostingHub as an example, in their company profile page, you will see the daily uptime data in the past 30 days, together with some other useful information like latest customer reviews, coupon code, hosting solution offered, company interview, discussion posts and more.
HostUCan also release this uptime monitoring service to the public as free. The features now include:

Downtime Notification Email
Uptime & Performance Report
Monitoring web sites every 10 minute
And more.
HostUCan will continue invest more resource to enhance the features of this tool, which might include multiple location monitoring, social network integration, etc. To use this service, what you need to do is to submit a review for you web hosts, for details, please refer to hostucan.com/website-monitoring.
About HostUCan:
HostUCan.com is a next generation web hosting review and search platform. It provides a powerful context-based search engine in order to help people find the best hosting option based on their hosting needs. HostUCan is also a place for webmasters to share their hosting experience and to seek information from other experts.
###