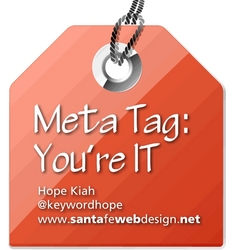 The average freelancer's website is like a single guy who sits around wondering why the woman he's interested in (let's call her Google) doesn't notice him. He has to learn to look into her heart, discover what she wants and deliver!
Santa Fe, NM (PRWEB) September 16, 2010
Got five minutes? That's how long Hope Kiah's PowerPoint presentation will be at Ignite NM this Wednesday, September 22nd at The Santa Fe Complex on 624 Agua Fria Street at 7 pm. Kiah's talk: "Meta Tag: You're It" will demonstrate how and why meta tags an be critical for the success website. This is one of a dozen wildly divergent five-minute presentations at this event. More info here: http://www.ignite-nm.com .
On Saturday October 2 at 2pm, Kiah will present "Dead on the Web? Resurrect your Book Site" at the New Mexico Women Authors' Book Festival, New Mexico History Museum, 113 Lincoln Avenue. This 20-minute talk will help authors take steps to position their book on search engines. More info here.
Kiah will speak at the SCORE free business seminar series on Tuesday October 19 at 6pm. The two and a half hour talk called "Web Strategies to build your Business" will cover a wide array of web marketing techniques, with handouts.
For those unable to make the free talks, Kiah's step by step Keyword Tutorial Ebook is available for download for $15 at the Santa Fe Web Design Site.
Hope Kiah of Santa Fe Web Design has been designing websites for freelancers and creatives since 1998. Since 2004, all her sites have been tailored for search engines. Her new custom Joomla! sites enable the owners to make their own updates. 45,000 people have viewed her free youtube tutorials on web marketing and Joomla! development.
###