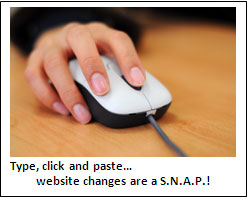 Search engines are very hungry for good content, and this is how you feed them
New Albany, IN (Vocus/PRWEB) April 19, 2011
SmartBox Web Marketing has just launched a new self-directed website management tool for their clients. The tools, with very little instruction, allow a doctor or staff member to update their websites on their own and in their own time, without any knowledge of HTML or programming.
Doctors are becoming increasingly advertising savvy. Many have done the research and discovered that internet marketing can achieve amazing results. Many have had websites built for the types of services they wish to target, such as dentures, implants and other specialties, and they have found that after some optimization the public is calling their office from ads on their websites. The tactic has worked so well that many dentists now have more than one website, each one targeting a different niche in the dental market.
While online marketing is well worth the investment it typically takes a lot of time. Most doctors know what they want their websites to say. They are, after all, the experts. But by the time their copy gets passed to a webmaster and that person puts it up on the website a week or more has passed. "We've literally seen doctors wait months for changes to be made on their websites," said Colin Receveur, founder and CEO of SmartBox Web Marketing.
Updating your site regularly with new and fresh content is a guaranteed way to increase your rankings with Google, Yahoo and Bing. While it used to be expensive and cumbersome to make changes on the fly, now it can be done by a non-technical person in literally seconds. "Search engines are very hungry for good content, and this is how you feed them," jokes Receveur.
"If you can edit a simple Word document on the computer," said Receveur, "you can now update your own site. It's easy and fast plus it saves a lot of time and expense, and in today's internet world a little bit of lost time can add up to a lot of lost revenue."
This move towards the self-management of websites also means that marketing efforts can be tested and altered almost instantly for a better return on a doctor's marketing efforts. "We've always had a way to determine the exact ROI on web marketing efforts for any dentist we work with," Receveur pointed out. "But now doctors can instantaneously update their website at the click of their mouse. An easy self-directed change to their site means the testing of ideas becomes a click. That's especially important if they are doing pay-per-click advertising."
SmartBox's new system also integrates mobile optimized websites (MOW) as well. "When you update your normal site, your MOW is sync'd automatically. It's really an incredible technology that also allows for GPS enabled websites and Click-To-Call functionality," Receveur says.
"And if the doctor doesn't want to fool with updating his own site," Receveur continues, "it's no problem. We guarantee a 48 hour turnaround time on all updates we do for our clients, and even many of them are done within 24 hours. Our goal is not only to provide our client's with the latest technology and marketing tactics available, but also to provide them with the best customer service, bar none."
You can learn about SmartBox, the advantages of this development and their work with dentists by going to http://www.smartboxwebmarketing.com/update-your-website.htm.
# # #