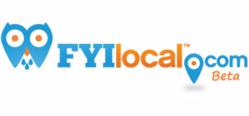 the site is preforming wonderfully for our small group of advertisers but we still have a number of gremlins to work through before we consider a launch
Toronto, Canada (PRWEB) August 05, 2012
Recently renamed web presence directory FYILocal.com has announced that it is preparing to accept location based listings for businesses in the United States. FYILocal.com has been serving the Canadian market and was formerly known as LocalHood.ca. The primary reason that the site changed names according a spokesperson for the site was to feature a domain name with a dot com extension.
Marketing Manager for the site, Wilf Barnes has previously hinted at a name change to a domain name without the country specific dot ca extention. The surprising part of the name change is that it came with no prior announcement. According to Barnes, "even with the name change, our site remains very much in Beta and we're still not prepared to launch widespread distribution." Barnes also added "the site is preforming wonderfully for our small group of advertisers but we still have a number of gremlins to work through before we consider a launch".
The site is open for business however and is expecting to selectively attract U.S. local businesses within the next few weeks. Details were not announced but one of the site's unique selling propositions is that it will be offering highly optimized web pages for free. The web pages feature the core address content of a business as well as a full description of its product, services and its brand names. The web page also provides a map and a web link to the advertiser's company web site. Links from one website to another are widely considered to be good for search engine optimization (SEO).
Along with the change of name to FYILocal.com, the site has also introduced several upgrades to the functionality of its marketing platform for local businesses. The site's goal is to make it very easy for local business owners to create and claim their listing. Targeting the right keywords does empower a business to reach a hyper-local audience. National and regional businesses alike have been able to enhance their local reach through FYILocal.com (formerly LocalHood.ca).
Presently, the site has accepted listings for more than 540 Canadian businesses from a variety of business verticals and industry types. Many of these businesses are enjoying top search engine rankings for keywords that they have targeted according to FYILocal.com. From restaurants to professional business providers such as financial services, legal and accounting to commercial and industrial services including all types of local contractors.
Recently FYILocal.com has had to respond to some of its new advertisers by addressing a number of granular improvements to its category classifications. An example of one business that has recently joined the site is an AAMCO Total Car automotive repair service located in the city of Brampton, Ontario. They specialize in transmission work for domestic and import automobiles.
When the AAMCO location joined FYILocal.com the site did not have a listing category that was relevant for transmission services. In response to their advertiser, FYILocal.com subsequently added a category heading specifically for automotive transmission services. The Brampton based AAMCO dealer can now be found on the site under the primary category for Automotive and under the sub-category "Transmission Services". The car care specialist has the listing title Transmission Repair Brampton.
The establishment of a range of parent category classifications as well as a wide range of sub-category classifications will become even more critical for the site as it prepares to accept listings from U.S. based businesses. The site remains in a patient beta release mode as it builds out its onsite infrastructure to support and optimize local business listings.
About FYILocal.com
FYILocal.com is an emerging, local web presence business directory that has recently launched as a live beta site. FYILocal.com presently hosts location based information for a variety of business categories in addition to local event listings and classified ads.
"FYILocal " is a LocalHood Marketing trade mark. For more information, go to FYILocal.com. Questions can be directed to (289) 752-7335 or toll free 1-888-975-9222 email: info (at) localhood (dot) com