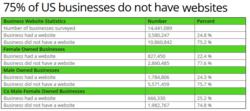 Your site will always look amazing, even on a 4-inch smartphone screen, thanks to our automatic mobile site converter, powered by DudaMobile
New York, NY (PRWEB) June 11, 2013
SEARCHEN NETWORKS®, an Internet advertising firm, has announced the release of powerful Website Builder Software, featuring easy to use templates, and drag-and-drop functionality.
"In 3 simple steps, beginners can build a gorgeous, customized website using our Design Wizard," said John Colascione, author of "Mastering Your Website" and Chief Executive Officer of SEARCHEN NETWORKS®. "Your site will always look amazing, even on a 4-inch smartphone screen, thanks to our automatic mobile site converter, powered by DudaMobile."
According to a survey by the US Census Bureau (75.2 %) still have no web site.
Businesses with No Website Statistics:
Number of businesses surveyed: 14,441,089
Business had a website: 3,580,247 (24.8 %)
Business did not have a website: 10,860,842 (75.2 %)
Source: US Census Bureau
Date Verified: 5.9.2012
"In order for customers to quickly access this service, as well as find out more information about it we're showcasing it at http://www.WebsiteSoftware.info," Colascione added.
About SEARCHEN NETWORKS®
SEARCHEN NETWORKS® is a pioneer in search engine marketing. The SEARCHEN® mission is, and has always been, to provide services poised at increasing a company's overall visibility on the Internet. Providing customers around the world with Internet domain names (web addresses), web hosting, SSL certificates and more, SEARCHEN NETWORKS® services its own network of media properties and provides expert Internet consulting to a select group of clients throughout the United States.
For more information on SEARCHEN NETWORKS® please visit https://www.searchen.com.