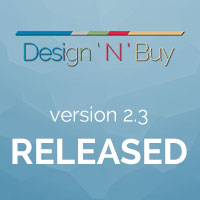 With an aim to deliver most advance web to print software solution we strive to serve the printing industry with the enhanced user-friendly solution.said Nidhi Agarwal – CEO Design'N'Buy.
New York, NY (PRWEB) June 10, 2015
Design'N'Buy, a renowned Web to Print software solutions provider, recently launched the upgraded All-In-One Designer, version 2.3 that allows customers to create personalized t-shirts, cards, signs and more directly from online web store. The upgraded version is more intuitive and offers complete web-to-print solution with fully functional design tool to online print store owners. The All-In-One Designer 2.3 allows print customers to design and personalize business cards, photo prints, shirts, mugs, and thousands of other printable products been offered.
About All-In-One Designer;
This simple, yet powerful web-to-print software plugs right into the existing web store and allows potential customers to add their own text, graphics and colors to printable products in real-time. Once done, print customers can make the purchase online making the whole shopping process a seamless experience. The print service provider gets print ready files to complete the order.
Using this turnkey multi-store web-to-print solution, online print store owners can create unlimited storefronts each with exclusive layout, theme and product catalog to target niche customer segments. Print shop owner can even localize each store with language and currency and offer store specific pricing, gift coupons, discounts and offers, payment gateways and shipping methods. The All-In-One Designer 2.3 also provides centralized control to store owners on orders and print production.
The new version upgrade is high performance to enhance the print workflow.
What's new in Design'N'Buy's web-to-print All-In-One Designer V2.3

New fully responsive and customizable Magento storefront theme fully upgraded to latest Magento community and enterprise editions
Mobile fit design studio for access from all devices
Browse design ideas in front-end with categorized structure and search functionality, choose and further personalize the design idea over any product of your choice
Manage centralized design idea repository, configure and assign design idea categories for each product separately (for Product Designer Plug-in)
Import SVG feature within template builder, create your design any 3rd party application, export as SVG file and directly import within template builder to quickly create editable template
Quick text edit module within design studio (for Canvas Designer Plug-in)
Decorate text in various shapes
Customers can edit design from shopping cart page, load it back in design studio for further editing
Better design studio layout for user friendly navigation
Other utility features like forgot password feature from design studio, remove the uploaded images from the image gallery within design studio etc.
The new version has also resolved many previously reported bugs and addressed several enhancement requests. For example the Product Designer Plug-in now comes with order preview display with detailed price break-up. It has also resolved some language translation issues. The company spokesperson further indicated that the future enhancements in the web-to-print solution would include "Bulk import/export option for design ideas and customizable products."
You can know more about All-In-One Designer 2.3 at http://www.designnbuy.com/all-in-one-designer-html5.html
About Design'N'Buy
Design'N'Buy is a web-to-print solution provider offering off-the-shelf solutions on license basis as well as subscription on SaaS basis. Having skilled and proficient team of experts, it is offering niche web to print solutions to various printing companies globally. The company offers a wide range of B2B and B2C print eCommerce solutions to offer personalize items ranging from t-shirts, mugs, laptop and mobile phone skins to business cards, greeting cards and banners.