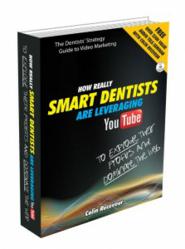 There is no doubt that video is the format people pay attention to when they make decisions, setting emotional triggers into play that print or static text cannot achieve
New Albany, IN (PRWEB) July 19, 2011
The prestigious Dental Economics magazine is featuring dental marketing expert & consultant Colin Receveur in its Dentistry IQ Video series.
Receveur was interviewed about his latest book, "The Dentists' Strategy Guide to Video Marketing: How Really Smart Dentists Are Leveraging YouTube to Explode Their Profits and Dominate the Web."
Receveur, founder and CEO of SmartBox Web Marketing, the leading Internet marketing consulting firm for dental practices, told Dental Economics that video is a powerful tool for dentists looking to expand.
"Video is the latest and greatest thing for dental offices," he said. "It allows (the dentist) to reach out and really touch people in a way that simple words on a page can't do."
"With the proliferation of YouTube and how easy it is these days to make videos, no dental office should be without them as part of their web marketing," he added.
According to Forrester Research, websites with video are 53 times more likely to receive a first-page ranking on Google versus a web site without video.
"Videos give dentists the ability to show to prospective patients their sincerity and expertise," Receveur said. "It starts a conversation with prospects that can't be done through text or email."
"It all comes down to marketing," Receveur said. "You want your face to be seen in as many places as possible."
YouTube identifies its largest viewer group as women between the ages of 45-64. According to Receveur, women are far more likely than men to decide where the family will go for dental care. In addition, consumers report that video greatly influences their decisions when it comes to choosing a local business or service, including a dental practice.
"There is no doubt that video is the format people pay attention to when they make decisions, setting emotional triggers into play that print or static text cannot achieve," Receveur added.
Receveur said YouTube is the next step in the marketing evolution—newspaper, TV, website and now video. Today, the hugely popular site accounts for 40 percent of online video viewing sessions in the U.S., according to AOL's Daily Finance. More importantly, YouTube, now owned by Google, says more videos are uploaded to its site in a 30-day period than the three over-the-air broadcast networks have created in 60 years.
YouTube is entrenched on the web, with millions of websites offering a YouTube player embedded for easy accessibility. Its growth in five short years of existence shows the appeal of videos and presents dentists with an opportunity to reach their target audience.
Receveur encourages dentists to utilize professional video services for their websites. "They should avoid camera shake, bad lighting and poor backgrounds," he said. "The key factors in making a good video are to look professional and to create a compelling script for their message."
SmartBox Web Marketing has helped more than 160 dental practices on 3 continents stay on the cutting edge of dental marketing. The company was founded in 2001 by Internet entrepreneur/author Colin Receveur. For more information, contact Chris Miller via email chris(at)smartboxwebmarketing(dot)com
###