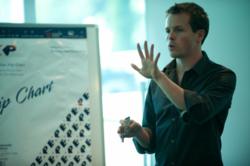 The responses to this question has given us valuable insight into how we can support our clients even more
(PRWEB) April 12, 2012
Melbourne SEO Services, and its principal, David Jenyns, have earned an enviable reputation for cutting through the 'noise' online to deliver cutting edge solutions to online business. A recent survey conducted by the company illustrates how its team identifies clients' barriers to success and designs solutions to overcome them.
The most recent survey was initially created to measure clients' use of Melbourne video production services. However, it was an unrelated additional question, "What is your biggest challenge working online?" that revealed a major stumbling block for online business owners: by trying to do everything themselves, they are getting less and less done.
"The responses to this question has given us valuable insight into how we can support our clients even more" said David. "They know that they need to develop systems and to outsource tasks like SEO, and writing content for their sites - but when it comes time to actually 'let go' and engage outsourcers, they stumble in the execution."
"All too often they believe they are saving money by taking the DIY approach, but it is ultimately a false economy" continued David. "Not only do they not complete tasks in time and to the standard needed to succeed, but they eat into their leisure time as well to the extent that these activities become chores."
The survey has given Melbourne SEO Services team valuable insight into how they can further help their clients - while at the same time help them with web video production.
About Melbourne SEO
MelbourneSEOServices.com is a full service search engine optimization (SEO) consultancy, based in Australia, but with a worldwide client base.
Known for being at the cutting edge of strategic SEO practices, the company delivers a growing suite of services including: on-page and off-page search engine optimization, article distribution, Google Places listing, SEO press release service, web video production one-on-one consulting, and now corporate SEO training
Melbourne SEO Services Director, David Jenyns, has, over several years, built a team of experts who are niche experts to support the business, and who share his ethos for ethical, professional internet marketing.
More about David Jenyns can be found at http://www.melbourneseoservices.com/seo-experts/