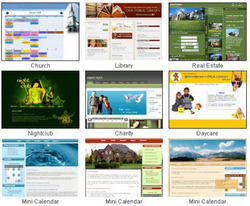 The site hosts millions of calendars with styles and designs as unique as its users.
Sussex, NJ (PRWEB) February 18, 2010
In 1999 while everyone was worrying about Y2K and where they would party for the millennium, one of the longest-running web calendar services was quietly released. The idea for what would become localendar came about when company founder Michael Ogrinz was hiking the Inca Trail while on vacation in Peru. "The Internet wasn't a very local place back then. It was hard to find things to do on the weekend that were fun and active. I knew there had to be local clubs and groups out there doing stuff that I just didn't know about."
To solve the problem, Michael founded localendar.com. By hosting free web calendars for webmasters, the site suddenly made it easy for local clubs, schools, churches, and other organizations to get the word out about their activities.
Localendar can be seamlessly integrated into existing websites using a variety of formats.
"We put a lot of effort into usability and customization", says Michael. This work has paid off in both popularity and longevity. The site can be highly customized without knowledge of HTML or CSS. But of course, those options are still open to experts. Although initially aimed at the webmaster community, localendar has attracted hundreds of thousands of individuals as well. The site hosts millions of calendars with styles and designs as unique as its users.
In its 11 years, localendar has seen many other calendar sites come and go. Services like AnyDay, Jump, When, and many others burned brightly, but briefly. While other sites abandoned their users and their data, localendar didn't just survive, it thrived. New features are constantly added to make the site more useful and powerful. For example:

A simple Publish Wizard that makes it easy to incorporate a calendar into your site
Multiple specialized calendar views and widgets for webmasters, bloggers, and individuals
Calendar Merge functionality to help teams and families coordinate
Calendar Cobranding lets a web site offer custom-branded calendaring services to its members
Special "Transition Effects" between calendar periods
Localendar also offers some of the most sophisticated support for "repeating events" available anywhere. There is an active member community and many of the new functions are inspired directly by user requests.
"We're grateful for the chance to have helped so many people build great sites for themselves and their communities" says Ogrinz, "and we look forward to providing more unique products and services in the next 11 years."
If you'd like more information about this topic, or to schedule an interview, please email pr (at) localendar (dot) com
###