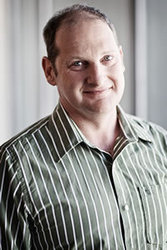 The cumulative effect of these trips is slower web pages - a bit like making individual trips to and from the supermarket for every grocery item
(PRWEB) June 11, 2009
Optimizing website load times will be considerably easier following the launch of software that increases page load times by up to 75% without code changes or extra hardware.
Web performance specialist Aptimize (aptimize.com) is generating considerable interest in the US and Europe with its Aptimize Website Accelerator software, believed to be the first in the world to automate the process of web page performance optimization.
Aptimize CEO Ed Robinson, currently in the US to speak at Velocity, the O'Reilly Web Performance and Operations Conference, says website optimization is something too few businesses focus on.
"The result is a surprisingly poor website experience for customers when the browser and server are physically separated by large distances," Robinson says.
"A business hosting its website on servers in New York may provide viewers on the East Coast page rendering speeds of three seconds. However when viewed from the West Coast, London England or Sydney Australia the same web page may take 20, 30 or even 40 seconds to load," Robinson says.
Forrester Research and Gartner Group report that ecommerce sites are losing US$1.1 to US$1.3 billion in revenue each year due to customer click-away caused byslow loading websites (Ref: Internet Business Law Services, March 2007).
A particular focus for Aptimize is ASP.NET and SharePoint performance, and the company is working closely with companies like Rackspace to distribute the software as widely as possible. A Linux Apache version is currently under testing.
Existing software products that promise to speed up websites typically use a mixture of file compression and caching. Aptimize includes compression and caching, but introduces a new process called "resource merging".
Resource merging reduces the number of files that make up a webpage, not simply the size of the files. This typically reduces web page load times by between 33% and 75%.
Modern web pages often have more than 50 images, scripts, styles and HTML frames and each requires a separate trip from browser to server.
"The cumulative effect of these trips is slower web pages - a bit like making individual trips to and from the supermarket for every grocery item," Robinson says.
Google engineer and author Steve Souders has described Aptimize as: ".. the next step in performance tool development - automatically making any web page faster without the developer having to do any additional work."
Aptimize is encouraging businesses to take the website speed test for a sense of the reality that visitors face.
Ed Robinson is in the US currently and available for interview.
###