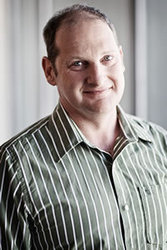 Competition on the web is increasing rapidly and where two businesses have the same features, speed of service is becoming an increasingly important source of competitive advantage.
Seattle, WA (PRWEB) December 7, 2009
Aptimize, the company behind world-first web accelerating software, sees major advances in web performance in 2010 as performance enhancing technology becomes mainstream.
Aptimize Chief Executive Ed Robinson says demand among multinationals and industry leaders for improved web performance increased appreciably in 2009, and he sees 2010 as a critical point in the development of the web relating to speed.
"If the 1990s was about faster networks and the past decade about server power and scalability then the next phase will be about browser optimization," Robinson says.
"With fast networks and plentiful server power, companies are innovating with their web applications to compete in the online world, using increasingly rich interfaces. The pressure is now on clients to ensure browsers can load these rich, complex websites fast from around the world."
Mr Robinson says that typically between 80 percent and 90 percent of the load time on modern websites is browser based — the only way to fix this problem is by optimizing how webpages are constructed.
"Competition on the web is increasing rapidly and where two businesses have the same features, speed of service is becoming an increasingly important source of competitive advantage."
"As a result web performance optimization (WPO) is becoming a critical part of search engine optimization. SEO is about finding a business on the web, WPO is about delivering that information quickly."
Mr Robinson says Google's announcement that it plans introducing a new ranking factor into its search algorithm – that of website speed – underlines this.
Principal Engineer at Google, Matt Cutts, has said organisations with fast sites should benefit through having website speed as an organic search ranking factor in early 2010. This means that when deciding which websites to return for a Google search and in what order, website speed will be a determining factor – fast loading landing pages will be rewarded in the search results with better positioning.
Mr Robinson says growth in cloud computing and offsite hosting of information resources is creating new performance challenges and further fuelling demand for performance enhancement solutions like Aptimize, especially in SharePoint installations.
The Aptimize Website Accelerator (WAX) significantly decreases load times without the need for physical re-engineering, code changes or extra hardware. It does this by 'file-merging - reducing the number of files that make up a webpage by packing them into like components.
When file-merging is combined with compression and caching, Aptimize reduces page load times typically by between 33% and 75%.
Demand for Aptimize Software has been greatest among multinationals with the.
"Multinationals are most affected by increasingly large files being carried over long distances, and they are open to solutions for both their internet and intranet applications."
Since its launch 12 months ago, Aptimize has recorded strong sales to companies like Microsoft, Google, Fidelity National Financial, Raytheon and Reckitt Benckiser and River Island.
Aptimize has established agreements with a range of resellers, including Gen-i in Australasia and Application Performance in the UK to make Aptimize Website Accelerator available to clients for accelerating websites and intranets.
"This is a highly cost-effective means of ICT integrators bringing considerable benefit to its customers and a significant distribution medium for Aptimize."
Aptimize offers a free online tool for measuring current website speeds and the degree to which they can be immediately approved through front-end optimization with Aptimize software. Take the website speed test and see the difference.
About Aptimize
Aptimize is a specialist web acceleration software business. Aptimize Website Accelerator (WAX) reduces page load times by between 33% and 75% without the need for disruptive and costly physical intervention. Aptimize's software is used by Google, Microsoft and some of the world's leading multinationals corporations. The company was co-founded by Chief Executive Officer Ed Robinson, and Chief Technology Officer Derek Watson to productize the breakthrough technology behind the Website Accelerator. Aptimize recently received investment backing by a leading group of New Zealand-based technology entrepreneurs.
###