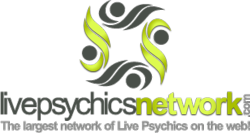 (PRWEB) November 18, 2012
Live Psychics Network has announced the recent launch of their new website with an updated listing of services offered. The purpose of the new Live Psychics Network website is to offer clients a trustworthy place to access a free psychic reading online, without the risk of scam often associated with other unethical psychic networks.
Live Psychics Network, advertised as the largest network of Live Psychics on the web, offers clients seeking help added convenience in free psychic chat and clairvoyant readings. Owner Douglas Martin reminds interested clients that all psychics are tested for accuracy and security before inclusion in the network.
Martin adds, "Most clients return to us again and again because we offer a complete money back guarantee. Clients can also consult with psychics individually in a face-to-face video call to add personalization to the process."
Clients can search the Live Psychics Network database to select their preferred psychic from professionals located around the world. Before signing up for service, clients can use the free chat feature to decide whether or not to buy a private reading.
Live Psychics Network professionals provide a wide range of expertise in career, love and relationship, dreams, clairvoyance, healing, tarot, and much more. Many clients are immediately drawn to clairvoyant readings from experienced mediums to find answers to burning questions or to receive closure on an issue from the past.
Martin confirms, "Most of our clients visit the Live Psychics Network for a very specific reason. Perhaps they are looking for an answer to help them make an important decision, or they may be hoping to find out information about a loved one that has passed on."
"It's for this reason that I take great pride in the Live Psychics Network to provide clients with a trustworthy resource to promote healing and help navigate their path in life."
The owner reminds clients that convenient email readings are also available. He believes that email readings are growing in popularity for many clients who are new to the psychic realm and would like to start their consultation slowly and in a neutral setting.
Martin believes that the launch of the new Live Psychics Network website is a perfect steppingstone to build a positive reputation in the psychic community. He states, "Unfortunately, many people have a negative association with psychics because of scam artists or bad past experiences. I'm happy to say that our clients will keep coming back to us again and again because of the trustworthy, caring, and responsible psychics available on our website."
Clients can visit http://www.livepsychicsnetwork.com directly to browse through a vast psychic network to find the right clairvoyant to meet their needs. Psychic readings are available at affordable prices from expert psychics in the industry, with anywhere from 5 to 30 years of hands-on experience.
Anyone can securely register through the official website to consult with the psychic of their choice. All payment options are 100% secure, and each psychic reading is protected with a money back guarantee for total customer satisfaction.