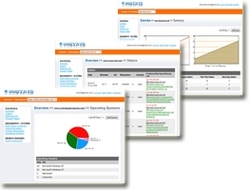 We want to provide web site / blog owners and marketers with the information they need to optimize their users' experience and generate a higher return-on-investment from their advertising spending
San Francisco, CA (PRWEB) August 11, 2009
99Widgets launches 99Stats.com free web statistics and website analysis service, 99Stats.com is a web site analysis solution used by web site / blog owners and marketers to better understand their users' experiences, optimize content and track marketing performance.
99Stats.com is available as a hosted service and features all the latest and most advanced tools for tracking and analyzing visitors on any website, the service allows real-time monitoring and is free of charge.
"We want to provide web site / blog owners and marketers with the information they need to optimize their users' experience and generate a higher return-on-investment from their advertising spending," said James Rothstein, Product manager at 99Widgets.com "99Stats.com is a valuable addition to the 99Widgets network."
99Stats.com allows you to get all the stats you need for your website or blog in 3 easy steps.
The key features for 99Stats.com are the ability to check how many visitors came to the website, check which keywords the Visitors entered to come to the website, check which of the website's pages are the most popular, check which countries your visitors came from and which browsers they used.
Many others features are available as well, all free of charge.
"99Stats is a free online web statistics tracker that lets you analyze the traffic of your website or a blog. It lets you monitor your daily traffic, view its geographical distribution (continent, country, city), get detailed info about site visitors including their browser, OS and screen resolution. Additionally, it shows referring URLs and search keywords used by visitors to find your site.
"There is nothing to install, you simply sign for a free account, get the tracking code and insert it into a template file of your website, and it's all real-time As opposed to other services such as Google Analytics," added Mr. Rothstein.
With the use 99stats.com a webmaster is able to spot trends and create fresh content that will attract more readers to his website. He can gain rich insights into his website traffic so that he can optimize his marketing effectiveness.
99Stats.com is a part of the "99Widgets.com Widget Network" which all its widgets uses one-login information allowing webmasters to easily benefit from other services without the hassle of signing up to multiple services. The various other widgets featured in the 99Widgets Network are: 99Counters.com a free geo targeted counter for blogs and websites allowing quick stats, 99Chats.com, a free flash chat room widget allowing bloggers, website owners and users at social networks, to create and place a free chat room in their pages easily allowing them to interact with their visitors and 99Polls.com which allows webmaster and blog owners create their own flash polls widgets and easily embed them on their websites.
###