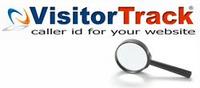 Web analytics solutions empower nearly two thirds of the Best-in-Class with incredibly rich and valuable knowledge that allows them to proactively call or contact the prospect or customer at the precise moment when perceived buying behavior is at its peak
Denver Technology Center, CO (PRWEB) March 23, 2011
Aberdeen Group has released conclusive new research examining the processes and technologies which help companies to beat sales quota. This work pinpoints the inside sales methods which enable an average of 84% of Best-in-Class reps to achieve their minimums compared to 21% of Laggard companies. The top enablers of successful sales programs identified in this study include E-mail integrated CRM and real-time web visitor tracking.
Aberdeen's work, entitled "Streamlining the Top of the Funnel: How Sales Teams Source, Qualify and Close Business," examined the sales organizations that are most successfully increasing the quality and flow of leads presented to their "closers," as well improving their overall revenue and sales effectives. Aberdeen has found they are deploying well-supported and carefully structured inside sales teams to handle the top layers of the corporate sales funnel. With the ultimate goals of beating sales quota and improving their lead conversion/closure rates and profit margins, Best-in-Class companies are going far beyond the simple act of employing low-value staff to "dial for dollars" into aging, purchased contact lists, and instead showing demonstrable return on their extensive investments in advanced processes and enabling technologies.
Two key technology enablers were identified as most likely to drive higher levels of sales productivity. E-mail integrated CRM is the leading Best-in-Class enabler with four out of five top performers supporting it. Next is the use of real-time web visitor tracking. According to Peter Ostrow, Aberdeen's Research Director for Sales Effectiveness, this "allows inside-sellers to know who is visiting my web site right now. These web analytics solutions empower nearly two thirds of the Best-in-Class with incredibly rich and valuable knowledge that allows them to proactively call or contact the prospect or customer at the precise moment when perceived buying behavior is at its peak."
In this report, Aberdeen highlights a case study for Checkpoint HR, who has utilized a website visitor tracking solution to boost conversion rates to sales from 1% to as high as 7%. Bill Faughnan, Search Engine Specialist for the NJ-based provider of HR and payroll services, observed that a "large number of CheckPointHR.com website visitors do not enter personal data." By implementing VisitorTrack (http://www.Visitor-Track.com) he noted, the company is now able to "identify their company by the IP address, including specific geographic location, as well as key selling data, such as what search terms were used by that particular visitor to find us, and which pages they spent time on." This information also includes contact records and sales intelligence all from a hosted CRM deployment.
Peter Ostrow summarized "As a vital function within the overall corporate sales ecosphere, the inside sales team continues to garner a great deal of attention - and budget. In fact, the Best-in-Class are devoting double-digit spending increases to inside sales practitioners."
About netFactor
netFactor Corporation provides a suite of products to drive new levels of sales performance from Internet marketing for the Business-to-Business market. VisitorTrack®, the company's core technology platform, is the world's leading application for website visitor tracking. VisitorTrack® integrates lead generation, marketing intelligence and web analytics into a powerful toolset used by B2B sales teams and marketers for website lead generation - it's like "Caller ID for Your Website®." netFactor is privileged to serve customers in nearly every industry to include software, telecom, healthcare, technology, financial, professional services, manufacturing, and transportation. For more information on netFactor Corporation's performance-driven products and services for Internet marketing, please visit http://www.netFactor.com.
###