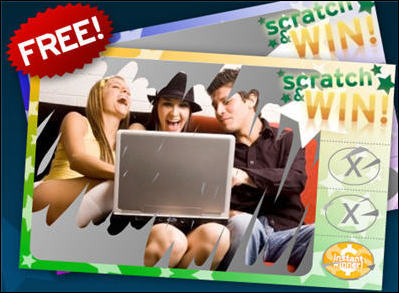 The site has been designed to create a viral buzz via the interactivity of making a personalized scratch card which tempts friends to scratch, and through the Bonus Instant Win feature that rewards the card creator for sharing their card
New York, NY (PRWEB) April 26, 2007
The exciting game of scratch-and-win tickets has been brought to the Internet and taken to new interactive levels thanks to a new Web site launched by ScratchYourself.com. Use of this free site allows fun-seeking users to upload photographs and images to create their own personalized scratch-and-win tickets that they then send to their friends and colleagues. Users of the site share this card by: 1) e-mailing the link to friends; and/or 2) embedding the provided scratch card code into a profile page or blog. The site launched April 24, 2007.
It's entertainment; it's easy; and best of all, these game cards actually have the potential to win!
Users can, for instance, upload photos of their friends at a recent party, creating a customized scratch card with a personalized caption and title - then post it to their social networking profile page or blog. Visitors to this profile page or blog then see the card and are enticed to scratch it to see what picture is hidden beneath its seal - also giving them an opportunity to win a cash prize. If the visitor is an Instant Winner, the creator of the scratch card is a Bonus Instant Winner and wins the same prize.
"The site has been designed to create a viral buzz via the interactivity of making a personalized scratch card which tempts friends to scratch, and through the Bonus Instant Win feature that rewards the card creator for sharing their card," said Lilly Gold, Founder.
About ScratchYourself.com:
ScratchYourself.com, property of Intuwin LLC, is the first phase of a larger plan to revolutionize the sweepstakes and related gaming industry by putting consumers in control. It is free to play, and users customize their scratch cards, which automatically instills within them a greater affinity to the game. They also share their games with friends, increasing the chances of winning Bonus Instant Prizes. And, soon, there will be a feature allowing users to select the prize they'd like to win. Prizes selected will then become part of the user's game. In the scratch card phase, for example, the prize selected will become the scratch card's border. When this card is shared with friends, the border will be seen by all; this will offer tremendous branding opportunities as well as coupon redemption channels within the winning seals.
For more information, visit the ScratchYourself.com website.
###