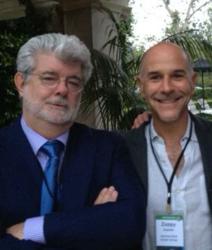 Los Angeles, CA (PRWEB) April 30, 2012
What if businesses could utilize social media to accurately and virally spread their messages without human intervention? That is the question Internet business prodigy and socially conscious filmmaker Mike "Zappy" Zapolin will explore when he addresses an audience of distinguished guests on the emergence of Web 3.0 during the 2012 Milken Global Conference in Los Angeles on May 1, 2012.
During his presentation, Zapolin will show examples of how his company, SocialExtract, allows marketing and public relations teams to deploy hundreds to thousands of agents to talk to customers and prospects thoughtfully and efficiently.
"Let's says you are a filmmaker, and you want to identify not only the people who would be most interested in your film, but the most influential people who can help you virally distribute the film's message throughout social media," explains Zappy. "Web 3.0's ability to hyperfocus allows you to do it—and in the blink of an eye."
To understand the evolution requires a look back at the history of the Internet. Zapolin says Web 1.0 was a breakthrough in that it connected the world. Then Web 2.0 emerged and helped organize the Internet and social media took the stage. Web 3.0, he says, is about harnessing the power of the social grid across all devices, in a way that creates unique intelligence and allows real collaboration.
"The Internet has greatly transformed the way we live, but it has also generated such a deluge of data that we can hardly make sense of it all," says Zapolin. "Web 3.0 addresses this problem by intelligently mining and analyzing it all."
The Web 3.0 panel discussion will take place on Tuesday, May 1, at 2:30 pm at the Beverly Hilton in Los Angeles during the 2012 Milken Global Conference, a unique assemblage of everyone from Fortune 500 CEOs and to studio heads to film producers and government officials. For more information, please go to http://www.milkeninstitute.org/events/gcprogram.taf?function=detail&EvID=3306&eventid=GC12.
About SocialExtract
SocialExtract, which was publically introduced in at the 2011 Milken Institute Global Conference by Mitch Pierce and Mike "Zappy" Zapolin, is a cloud-based technology that helps companies embrace social media as a marketing and customer service medium. SocialExtract allows marketing and PR teams to deploy hundreds, or even thousands, of automated agents to talk to customers and prospects.
About Mike "Zappy" Zapolin
Mike "Zappy" Zapolin is the visionary behind such Internet brands as Music.com, Beer.com, Computer.com, Creditcards.com, Debt.com, Diamond.com, PrescriptionDrugs.com, Silver.com, Arbitration.com and Mediation.com. He has been featured multiple times on NBC's "Today Show" and other major media outlets.
Zapolin is the creator of the Harvard Business School elective "eBusiness" and was recently a speaker at The Economist Magazine's Global Branding Conference in Shanghai. He began his career at Drexel Burnham Lambert, later becoming one of the youngest vice presidents in the 100-year history of investment bank Bear Stearns. After leaving to start his own direct marketing company, Z.T.V., he and Deepak Chopra co-authored a book titled Ask the Kabala.
His latest project, a collaborative effort with spiritual guru Deepak Chopra, is a film titled The Reality of Truth, which is being produced by Kurt Engfehr, who co-produced Bowling for Columbine and Fahrenheit 911. Directed by Laurent Levy, the film includes interviews with Marianne Williamson, Ram Dass, John Hagelin, PhD; Bruce H Lipton, PhD; Foster Gamble (who recently released the documentary "Thrive"), Charles Grob, MD, Peter Coyote and Lior Suchard. The executive producer is Wall Street icon and just capitalist Peter Janssen.
Highly controversial in nature, The Reality of Truth introduces audiences to the modalities people have used throughout history to transcend into an alternate reality, and suggests these techniques might be the breakthrough humankind needs to move into the future. The film features top religious gurus, thought leaders and scientists who discuss the prevailing understanding of reality and the methods they invoke to transcend into an alternate reality.
Zapolin is an enlightened serial entrepreneur who seeks to help a population that suffering from widespread hopelessness and chronic depression to recover by returning to ancient spiritual customs and beliefs.