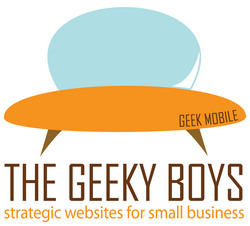 We are pleased to re-launch TheGeekyBoys.com
Los Angeles, CA (PRWEB) September 29, 2009
The Geeky Boys debuts a new Web site, TheGeekyBoys.com, to assist small business owners in building an online presence and improving their marketing strategy.
"We are pleased to re-launch TheGeekyBoys.com," says Lauri Taylor, Founder of The Geeky Boys. "We work hard to develop successful websites, create unique design and write fresh copy for our small business clients--and decided to invest the same amount of enthusiasm and imagination into our own company site."
TheGeekyBoys.com gives visitors a unique online experience while providing information on Web design packages and marketing consultation. Through its robust online portfolio, The Geeky Boys showcases the development of many small companies making great professional strides despite the lagging economy. The Geeky Boys works steadily with new and small business owners ready to market themselves online, but who are often on a limited budget.
"Budding entrepreneurs come to The Geeky Boys for help in getting their business ideas off the ground," says Taylor. "Because we are also a small business, we can easily relate to our customers and understand the complexity involved in maintaining a company and marketing a service or product--especially in this economy."
TheGeekyBoys.com outlines service descriptions for original site design, copywriting, marketing, Web hosting and business strategy. The Geeky Boys includes quirky content throughout its site as well as Web 2.0 insight on the company blog, Geekology (http://www.TheGeekyBoys.com/blog ). Local startups and nonprofit organizations that want to develop their business mission and goals can contact The Geeky Boys online for Web design, complete content creation and Internet marketing tactics.
About The Geeky Boys:
The Geeky Boys (http://www.TheGeekyBoys.com) is a full-service Web design and online marketing company, providing Internet solutions for small business owners. The Geeky Boys not only specializes in Web design and implementation, but assists clients with copywriting, graphic design and image rendering. The Geeky Boys also offers consultation on short-term and long-term business strategy, marketing tactics and brand identity. The Geeky Boys is based in Los Angeles, with two offices in the cities of West Hollywood and Woodland Hills.
Phone: 888.302.6650
Web site: http://www.thegeekyboys.com
Main Office:
21900 Burbank Blvd. - 3rd Floor
Woodland Hills, CA 91367
Westside Location:
1901 Avenue of the Stars - 2nd Floor
Los Angeles, CA 90067
###