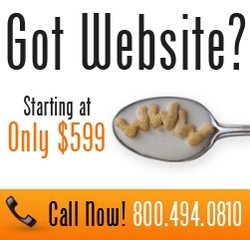 Simply put, if you have a business today, you need a website. Period.
Los Angeles, CA (PRWEB) May 11, 2010
New businesses have a friend in Los Angeles as ProSites4Less.com publicly gears its engines toward helping SMBs (Small-to Medium-sized Businesses) get established online. A new strategy to help businesses under 5 years of age has been deployed with an added-feature $599 Web Design Package designed for businesses with a tight budget. Its purpose: to inexpensively fast-track businesses into the public's eye during their important infant growth.
Trusted names across virtually every industry proclaim owning a website is a necessity and is becoming even more so in today's digital age. According to Business Know How, the #7 reason new businesses fail within their first 5 years is because they had "No Website."
"Simply put, if you have a business today, you need a website. Period. At the very least, every business should have a professional looking and well-designed website... Remember, if you don't have a website, you'll most likely be losing business to those that do."
This new Web Design Package for $599 includes such features as:

Professional Web Design
Search Engine Friendly
Conversion Friendly
Managed Hosting
Dedicated Project Manager
Email Addresses @yoursite.com
Extended Maintenance & Services
Payment Plans from $89 /month
And more...
With roughly 51% of SMBs ($100,000 to $999,000 in annual revenue) still operating without a website, the economy is not entirely to blame. Instead, surveys reveal business owners are commonly "confused" about the process of building a website, or just unaware of the benefits of having one. The need for a healthy web presence is understood by successful business owners all over the country.
TransMutationSciences.com proclaims, "More than 80 percent of SMBs with an online presence said their Web sites were essential to their companies' success." The numbers simply show a direct correlation between having a website and increased sales volumes. But why do some continue to resist? Cold feet? Lack of funds? Holding out for better timing?
ProSites4Less.com is providing solutions to those businesses who want to succeed online with the new Basic Web Design Package for only $599. CEO, Derrek Cordova, says, "Everyone knows they need a website. We've just made it available at a fraction of the average price; so now there really are no excuses. Do your business a favor and get a website today! Who doesn't have 600 bucks?"
ProSites4Less.com is a full-service web design and online marketing agency housing a wide spectrum of clients from Fortune 500 companies down to the smallest businesses on your street. Involved in hundreds of big-ticket website design and development projects, ProSites4Less specializes in Website Design, Search Engine Optimization (SEO), E-Commerce online stores, Conversion Optimization, Pay-Per-Click Advertising (PPC) and more.
Be one of the first few hundred to take advantage of this great new offer. For more information about Professional Websites for Less, call (800) 494-0810 or visit their website at http://www.prosites4less.com.
###