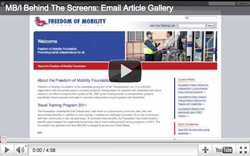 Many companies are drowning their audiences with long emails and make it difficult for customers to find information they need when they need it
San Francisco, CA (Vocus/PRWEB) June 25, 2011
Marissa Berger Interactive (mb/i), a San Francisco Bay Area web design firm, today announced its new Email Article Gallery that the company says leverages the functions of Constant Contact and WordPress to present business emails for higher impact, provide a searchable archive of articles, increase Google "search juice," and create an online dialog with users.
"Many companies are drowning their audiences with long emails and make it difficult for customers to find information they need when they need it," said Marissa Berger, owner of Marissa Berger Interactive. "Our Email Article Gallery marries the best of Constant Contact and WordPress to help people find the right information at the time they need it."
The service works by creating a Constant Contact template where each article has a "read more" link destination on a WordPress blog. Both are custom-made to match each client's branding. This mechanism generates content for the blog, adding to each client's Google presence on top of all of the features WordPress brings to the table.
Marissa Berger has been in business since 2000, and most of the company's team members have over 12 years experience in web design. The San Francisco web design company has launched hundreds of projects—samples of which can be seen on its online portfolio.
"We have many clients who still use our services that we met back when we started," said Berger.
Marissa Berger has a bachelor's degree from UC Berkeley in Business Administration/Finance and a master's degree from Hayward State in Business Administration/Marketing.
For more information about the Email Article Gallery or any of mb/i's other products or services, call them at (925) 435-1514 or visit them on the web at http://www.marissaberger.com. MB/I offers a complimentary 30-60 minute consultation by phone or in person, depending upon the location.
About Marissa Berger Interactive
Marissa Berger Interactive (mb/i) is a San Francisco Bay Area web design company that specializes in open-source content management systems such as Drupal and WordPress. MB/I has developed websites since 2000, and has a diverse portfolio of over 125 websites.
###