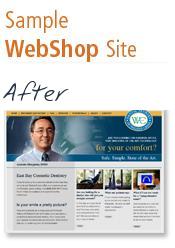 WebShop is ideal for solopreneurs who know they need a site, but have too many other things on their plate to do it right
San Francisco, CA (PRWEB) July 28, 2011
Marissa Berger Interactive (mb/i), a San Francisco Bay Area web design firm, has relaunched their WebShop website workshops. The four-session program brings together elements of a focus group, a design session, and instructional coursework that helps small-to-medium businesses (SMBs) create unique, professional-looking websites in just five weeks.
"WebShop is ideal for solopreneurs who know they need a site, but have too many other things on their plate to do it right," said mb/i founder Marissa Berger. "It's a structured system with a built-in timeline, so you know you won't keep putting it off."
Through a series of discussions, hands-on work, and easy-to-follow worksheets, participants will not only put together a website, they will compose their core content, outline their website strategy, craft effective calls to action, establish a process to generate online leads, and establish the theme and narrative that will be used to build a brand new site.
Because WebShop participants are decision-makers from multiple businesses, participants hear a number of perspectives.
WebShops are sociable and engaging. According to Dr. Antonio Margiotta, who participated in the program when it was first introduced in 2008, WebShop makes "making a website easy and fun."
The core mb/i team has more than 40 years of combined experience designing, planning, and producing websites. The Bay Area web designer maintains a portfolio of more than a hundred projects on its website.
Marissa Berger has a bachelor's degree from UC Berkeley in Business Administration/Finance and a master's degree from Hayward State in Business Administration/Marketing.
For more information on WebShop or any of mb/i's other products or services, call them at (925) 435-1514 or visit them on the web at marissaberger.com. MB/I offers a complimentary 30-60 minute consultation by phone or in person, depending on the caller's location.
About Marissa Berger Interactive (mb/i)
Marissa Berger Interactive (mb/i) is a San Francisco Bay Area web design company that specializes in popular open-source content management systems such as Drupal and WordPress. MB/I has been developing websites since 2000 and has a diverse portfolio of over 125 websites.
###